Syria air strikes kills 25, including 6 children in Aleppo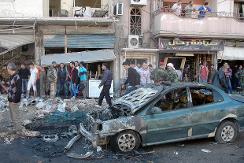 Syria warplanes bombed the divided northern city of Aleppo on Sunday, killing 25, including six children, while a car bomb in Homs killed at least eight people.
The International Committee of the Red Cross (ICRC) meanwhile said half a million people across war-torn Syria are wounded, with many lacking access to basic healthcare and treatment.
Hundreds of people have been killed over the past week in Aleppo as Syrian aircraft have dropped crude barrel bombs on the country's second city and onetime commercial hub, now largely reduced to rubble, according to activists, medics and other witnesses.
"Dozens of people were killed or wounded" when Syrian warplanes dropped barrel bombs near the Friday market in Aleppo on Sunday, according to the Syrian Observatory for Human Rights, a Britain-based group that relies on activists and other witnesses.
The group said separate attacks also targeted the rebel-held Sakhur, Ahmadiyeh, Baideen and Ard al-Hamra neighbourhoods of the city, which has been cleaved into regime- and rebel-held enclaves since the summer of 2012.
The Aleppo Media Centre, a network of citizen journalists on the ground, said the barrel bombs "destroyed a bus, leaving no survivors," and demolished around 10 cars and a residential building.
It added that "hospitals are packed with wounded," and said the number of dead could not yet be confirmed, as the bombing campaign continued into the afternoon.
Footage distributed by Shahba Press, another network of citizen journalists, showed children in a bombed-out school in Marea in the north of Aleppo province. One of the children said the school had been bombed multiple times while classes were being held.
The Syrian Revolution General Commission, a network of grassroots activists, described "panic and mass flight to the countryside, despite the intense cold."
On Saturday, Human Rights Watch had accused regime forces of "wreaking disaster" in Aleppo with an aerial bombing campaign which has killed hundreds in the past week.
A car bombing in the Shiite village of Omm al-Amd in the central province of Homs, meanwhile, killed eight people, including six schoolchildren, the official SANA news agency reported.
The Observatory reported a higher death toll of at least 12, including five children.
It said Omm al-Amd is home to a Shiite community supportive of President Bashar al-Assad, unlike the majority Sunni Muslim rebels fighting to topple him.
An estimated 126,000 people have been killed in Syria's civil war, which began after President Bashar al-Assad launched a brutal crackdown on pro-democracy protests that were first held in March 2011. Millions more have been displaced by the fighting.
Lack of treatment for wounded, ill
The ICRC said Sunday that another half-million people have been wounded and that tens of thousands have been detained.
"The wounded are often not cared for properly and the chronically ill often do not receive the treatment they need," ICRC chief Magne Barth said, as the group again urged both sides to allow humanitarian aid to reach civilians.
Barth said Syrian authorities were preventing access to rebel-held areas besieged by loyalists troops, including in Homs and Damascus provinces.
The situation is especially grim for the sick and wounded in areas of fierce fighting, such as Aleppo, where a young Reuters freelance photographer, Molhem Barakat, was killed while covering a battle on Friday.
According to Reporters Without Borders (RSF) Syria is the world's most dangerous country for journalists, with 27 professionals and 93 citizen journalists killed since March 2011.
Also caught up in Aleppo province's violence were 50 Kurdish Syrians, kidnapped Saturday by Al-Qaeda-affiliated jihadists from the Islamic State of Iraq and the Levant (ISIL), said the Observatory.
ISIL is already holding scores of abductees, including reporters, activists, rebels from competing brigades and Kurdish civilians and fighters.
The remains of British doctor Abbas Khan, who died in a Syrian jail, were meanwhile flown back to London on Sunday.
British authorities and the doctor's family have accused his jailers of killing him days before he was set to be released, charges denied by Damascus, which says he committed suicide in prison.
The doctor's sister Sara told Sky News Sunday it was "absolutely despicable that the Syrians feel that they can give us multiple explanations for his death."
"We want the British government to help the family in getting those answers from the Syrians as somebody needs to own up for this absolutely cruel injustice that has been done to my brother."
BP