Israeli police call blast on Tel Aviv Bus 'terrorist attack'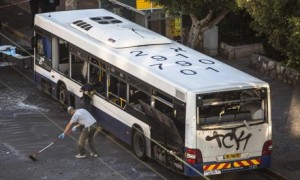 An explosion aboard an empty Israeli bus near Tel Aviv on Sunday that did not kill anyone was a "terrorist attack," police said.
"After examining the explosives retrieved from the scene, we have concluded that this was a terrorist attack," police spokesman Micky Rosenfeld told AFP.
"An investigation has been opened and our forces have been deployed in the area to try to identify suspects," he added.
Police had said earlier that a sapper was examining a suspicious object found on the empty bus in the seaside town of Bat Yam when it exploded, but was unhurt.
The driver of the bus had spotted an unattended bag on board, stopped the vehicle and ordered passengers to disembark, Rosenfeld said.
But bus company Dan said the driver had been tipped off by a passenger.
"The passenger opened the backpack and saw wires," news website Ynet quoted Dan spokesman Eitan Fiksman as saying.
The authorities had initially suggested the attack might have been connected to an often violent power struggle among gangsters in the Bat Yam area.
"We urge the public to be particularly vigilant on public transport including buses and trains, and in shopping centres in of case other attempted attacks," police spokeswoman Luba Samri told AFP.
The last bombing to target Israeli public transport was in November last year, when a blast hit a crowded commuter bus as it passed the Israeli defence ministry in Tel Aviv during rush hour, injuring 17 people.
In 2011 an explosion at a bus stop in Jerusalem ripped through a bus, killing a British tourist and wounding 30 other people.
Israel said the 2011 and November 2012 blasts were the work of Palestinian militants.
In an October 2013 West Bank raid, Israeli troops killed Islamic Jihad militant Mohammed Assi, described by the army as the "planner" of the 2012 Tel Aviv bus bomb, in a firefight.
AFP