Death toll from syria airstike near Aleppo is 42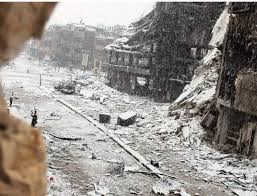 THE DEATH TOLL from aerial bombing of an Aleppo neighborhood today has risen to 42, a monitor said, as Syria's air force targeted other areas of the city and nearby villages.
"The toll has risen to 42 people killed in Hanano," said the Syrian Observatory for Human Rights, referring to the neighborhood hit by massively destructive TNT-packed barrel bombs.
Earlier it was reported that the strike killed at least 25 people, including six children, a monitor said, part of a week-long regime bombing campaign that has left hundreds dead.
The Observatory, a Britain-based group relying on activists and other witnesses inside Syria, said another 17 people were critically wounded when regime aircraft dropped "TNT-packed barrels" on the Hanano neighbourhood.
"The number of people killed in the bombing on Hanano might rise," said Observatory director Rami Abdel Rahman.
Earlier today, the Syrian air force had dropped TNT-packed barrels on several parts of Aleppo and villages nearby.
Activists in the northern city had singled out the bombing of Hanano as especially deadly, as the highly destructive barrel bombs had struck a bus.
The Aleppo Media Centre, a network of citizen journalists on the ground, said the bombs "destroyed a bus, leaving no survivors," and demolished about 10 cars and a residential building.

Mysterious death of British doctor
Other air attacks struck the rebel-held Sakhur, Ahmadiyeh, Baideen and Ard al-Hamra neighbourhoods of the city, which has been cleaved into regime- and rebel-held enclaves since the summer of 2012.
Elsewhere in Aleppo province, Marea and Atareb villages were also hit today, said the Observatory.
The Syrian Revolution General Commission, a network of grassroots activists, described "panic and mass flight to the countryside, despite the intense cold".
Meanwhile, Aleppo's opposition Provincial Council announced schools in rebel-held areas would be closed "for a week… because of the systematic, deliberate bombing".
Footage distributed by Shahba Press, another network of citizen journalists, showed children in a bombed-out school in Marea in the north of Aleppo province.
One of the children said the school had been bombed multiple times while classes were being held.
Yesterday, Human Rights Watch accused regime forces of "wreaking disaster" in Aleppo with an "unlawful" aerial bombing campaign which has killed hundreds in the past week.
Separately, British Prime Minister David Cameron has written to the family of a British doctor who died mysteriously in a Syrian jail, saying Damascus must "answer for" his "sickening" death, a government source said on Sunday.
Syria has said Abbas Khan, who was arrested last year after travelling to Aleppo to treat wounded civilians, committed suicide — but a British minister said this week that he was "effectively murdered" by the regime.
The body of the father-of-two was flown back to London today ahead of an autopsy to determine how he died, the family's lawyer said.
The Journal