South Sudan rebels attacking civilians, report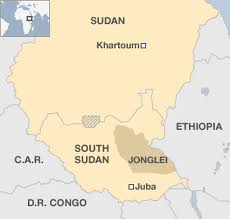 South Sudanese troops loyal to former Vice President Riek Machar are attacking civilians who have fled the Jonglei state capital, Bor, after the government army lost control of the city.
Thousands of civilians escaped to nearby forests after soldiers loyal to Machar, who's being hunted by security forces on allegations he helped stage a failed coup this week, seized the town. The rebels are being led by General Peter Gatdet Yak, Mayor Nhial Majak Nhial said by phone from the city today.
"The forces of Gatdet are fighting civilians," he said. "There's anxiety, there's panic, there's everything. I am afraid another massacre may have been committed here in Bor."
About 200 oil workers employed by the Greater Nile Petroleum Operating Co. took refugee at a United Nations compound in Unity state, UN spokesman Joseph Contreras said. South Sudan has sub-Saharan Africa's third-largest oil reserves after Nigeria and Angola, according to the BP Statistical Review.
"We expect their stay to be temporary because we understand that their company will be arranging for their evacuation," Contreras said today by phone from Juba, the capital.
Bor Massacre

Bor was the scene of one of the worst massacres during the Sudanese civil war prior to South Sudan's independence in 2011 when ethnic Nuer forces led by Machar fought soldiers mainly from the Dinka group. Fighting in what became known as the Bor Massacre in 1991 killed as many as 2,000 civilians, according to London-based Amnesty International.
Jonglei is an eastern state bordering Ethiopia where Total SA (FP) has a stake in an oil-exploration concession.
While violence spread outside Juba, calm has returned to the city as many shops and the main airport reopened yesterday after fighting broke out on Dec. 15 between soldiers at an army barracks, leaving as many as 500 people dead, Defense Minister Kuol Manyang Juuk said by phone yesterday. At least 20,000 people have taken shelter at three UN compounds.
Government soldiers loyal to President Salva Kiir specifically targeted civilians of the Machar's Nuer ethnic group during the fighting in Juba, New York-based Human Rights Watch said today in a statement. The group said it received reports that Kiir's Dinka people, the country's biggest ethnic group, were being targeted in Bor.
Ethnic Attacks

"We are deeply concerned that ethnically-based attacks on all sides will lead to revenge attacks and more violence," Daniel Bekele, Africa director at Human Rights Watch, said in the statement.
Kiir said yesterday he's prepared to hold talks with Machar.
"I will still sit down with him so that we talk," Kiir told reporters in Juba. "As to the outcome of the talks, I will not be able to tell you."
Machar denied accusations that he attempted to remove the government on Dec. 15 or has any link to ethnic and political violence, according to interviews published yesterday by the British Broadcasting Corp. and the Paris-based Sudan Tribune online newspaper.
Cabinet Fired
In July, Kiir fired his entire cabinet, including Machar, after the former deputy said he will contest the 2015 presidential elections. The country has been ruled by the Sudan People's Liberation Movement, known as SPLM, since it gained independence from Sudan two years ago.
The U.K. has sent a plane to evacuate British nationals from Juba, the Foreign Office said today in a statement.
Two U.S. C-130 transport aircraft yesterday evacuated 120 U.S. and foreign diplomatic personnel from Juba, Pentagon spokesman Colonel Steve Warren told reporters. "General unrest" prompted the State Department to request the evacuation, he said.
The State Department said it also used a charter flight to evacuate diplomatic personnel and private citizens.
When South Sudan split from its northern neighbor Sudan in 2011, it took three-quarters of the formerly united country's oil output. The land-locked nation exports about 220,000 barrels of oil a day through pipelines across Sudan.
Export Revenues

A dispute with Sudan in 2012 over export revenues led to a 15-month freeze in crude production that cut South Sudan's gross domestic product in half.
China National Petroleum Corp., Malaysia's Petroliam Nasional Bhd. and India's ONGC Videsh Ltd. produce most of the country's crude.
The government said on its website that it had arrested 10 people, mainly senior politicians and former cabinet ministers in connection to plans to stage the coup.
Pagan Amum, secretary-general of the SPLM and former chief negotiator in talks with Sudan, was arrested with his bodyguard, Kiir said yesterday.
"For those who are arrested in connection with Riek Machar's failed coup, they'll go to court," he said.
Business week