Berri: Targeting the Lebanese Army "extremely dangerous"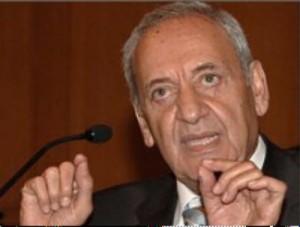 Lebanon Parliament Speaker Nabih Berri warned that targeting the Lebanese Armed Forces is "extremely dangerous."
"Targeting the army is targeting the state's institutions… This is extremely dangerous and threatens stability," MPs quoted Berri as saying following a Wednesday meeting in parliament.
Berri also warned against the "danger of terrorist groups which seek to turn Lebanon into a scene for Jihad."
He stated he was surprised by "the Lebanese people's lack of solidarity and cooperation to face what threatens their stability and unity."
The army was targeted last Sunday evening in suicide bomb attacks at two checkpoints in Sidon , killing one soldier and injuring three others.
The first attack came at 9:00 p.m., when an armed man hurled a grenade at a Lebanese army checkpoint at the Al-Awali Bridge, north of the city, injuring two soldiers.
Less than an hour later, a man carrying a hand grenade stepped out of a GMC Envoy SUV, which was being checked by the LAF at the army's checkpoint in Majdalyoun in eastern Sidon, and blew himself up.
The suicide bomber, who was of Palestinian origin, killed one soldier in the explosion and injured another.
Berri's remark come a day after Lebanese Forces leader Samir Geagea accused the Iranian backed Shiite group Hezbollah and its March 8 allies promoting terrorism in Lebanon as a result of their Syrian role.
Berri who heads up the Amal Movement is a key member of the March 8 alliance and a key ally of Hezbollah.
"By going to Syria to fight the Takfiris, as it says, Hezbollah brought them closer to home," Geagea said in a speech on Tuesday.
"Hezbollah's participation in the Syrian fighting is under the orders of Iran and not those of the Lebanese people." Geagea stressed
"Those who should be held responsible for the emergence of Takfiris in Lebanon are Hezbollah and the March 8 axis in particular."
Last Sunday Future Movement MP Ahmed Fatfat described Berri and Hezbollah chief Hassan Nasrallah as two sides of the same coin.
President Michel Suleiman last week reiterated his call on Hezbollah to withdraw from Syria and abide by the Baabda declaration.
The Baabda Declaration was issued following a national dialogue in 2012, and was championed by President Suleiman and signed by all the Lebanese parties including Hezbollah. It called on distancing Lebanon from regional conflicts.
Thousands of Hezbollah fighters are reportedly helping the forces loyal to Syrian president Bashar al Assad in their fight against the mostly Sunni rebels who are trying to topple the 40 year old dictatorship.
Hundreds of Hezbollah fighters have already been killed in Syria and buried in Lebanon according to activists.