Syria 'Murdered' British Doctor, Says Minister
British Foreign Office minister Hugh Robertson has accused the Syrian government of effectively murdering a British doctor.
Dr Abbas Khan, 32, an orthopaedic surgeon from Streatham, south London, had been held in Syria for more than a year but is now thought to have died.
He was seized by government troops in the rebel-held city of Aleppo after entering the country with a visa on a humanitarian mission.
Mr Robertson said there was no excuse for "Syrian authorities who have, in effect, murdered a British national who was in their country to help people who were injured during their civil war."
Sara Khan, one of the doctor's six siblings  paid tribute to her brother, told Sky News: "My brother is my hero. He didn't die in a normal way, he died trying to make a difference.
"Some could say he was naive for going out there and risking his life but he went out there because he knew his skills could help.
"He did something that he believed in and made an example for other people to do things. It's so brutal out there. Before the war, Aleppo had 1500 general surgeons- now there are only four.
Talking about his arrest, she said: "When he was taken we were grateful in a way because we knew what we were dealing with. We thought 'OK, now we can get him back'.
"We overestimated how well the regime would treat him. We'd spoken to other prisoners who'd been released and they were OK. My brother's a fully grown man so we thought he'd be OK."
Ms Khan recalled the time of his arrest last year.
"He was arrested on November 22 and we didn't get any information from the Foreign Office until June but we knew by then he'd been taken. They said we are going to look after him. Nothing happened – nobody went to see him.
"My mum went to Damascus and continuously banged on doors to find out whether he was. She took a suitcase with her almost full of his favourite biscuits.
"Months later, she was allowed to see him at the Ministry of Justice in Syria where they brought him shackled in front of her. She didn't even recognise him, he'd lost almost half his weight and had scars all over his body and he was missing finger nails.
"He was moved In August to a civil prison – low security almost like an open prison. He seemed to be comfortable and began teaching English to others. My mum saw him regularly at this point.
The authorities ended up charging him with "fixing the bones of the opposition" but he denied treating with prejudice. He never would have done that. The trial kept getting put back.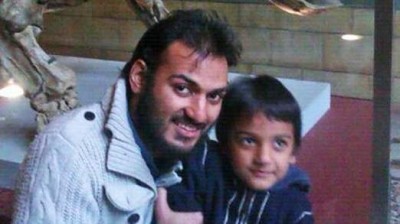 "Since September, were trying to get a delegation of parliamentarians to go and collect him. The Foreign Office didn't help with this. That was going to be on December 27. Last week, (Bradford West MP) George Galloway called us and said we could go and collect him.
"We thought this Friday was to be the day. The deputy foreign minister of Syria called my mum to say they were going to let him go. We were so happy, we started decorating and preparing for his return.
"Then we heard from the prison that he had been taken away. Officials said it was just a final step in the process. We were sceptical. He went on Friday and on Monday we got a call from a security service official to say he was dead.  Syrians are calling it a case of suicide – the statement released a ridiculous story of how he killed himself."
Dr Khan's sister said the family was "absolutely shocked and devastated" at the "callous crime".
"If they'd have killed him straight away I'd almost understand and accept it, but we had hope. He was due to be back with us in four days. I could never have asked for a better brother. He was an amazing person.
"He was caught up in a political row and it's unfair."
Earlier, the Foreign Office confirmed it was investigating reports into Dr Khan's death.
A statement from the Foreign Office said: "We are extremely concerned by reports that Dr Khan has died in detention in Syria and are urgently seeking confirmation from the Syrian authorities.
"If these tragic reports are true, responsibility for Dr Khan's death lies with them and we will be pressing for answers about what happened.
"We have consistently sought consular access to Dr Khan and information on his detention, directly and through the Russians, Czechs and others.
"All UK consular services in Syria were suspended some time ago and we continue to advise against all travel to Syria."
A statement issued by George Galloway said the MP "had been negotiating for months with the Syrian government over the release of Dr Khan and was due to fly out this week to bring him home".
Mr Galloway said: "I think we will have to wait for clarification on how exactly he died but this is heartbreaking and devastating news for his family who have been working so hard for so long to secure his release, particularly because his freedom had been agreed and he was due to return with me in the next few days.
"My sincere condolences go out to his family whose pain is unbearable."
Sky News