Cambodia sends 4th batch of UNIFIL troops to Lebanon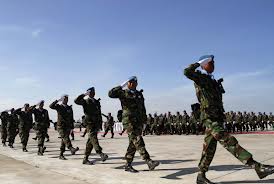 Cambodia on Tuesday dispatched the fourth batch of 184 soldiers to Lebanon to replace the third batch's forces, whose one-year with United Nations Interim Force In Lebanon (UNIFIL) peacekeeping duties have come to an end.
The civil engineering group would perform their one-year duties by clearing landmines, constructing roads, bridges, shelters and defense posts, producing drinking water, and providing medical treatment to Lebanese civilians, Gen. Pol Saroeun, Commander-in- Chief of the Royal Cambodian Armed Forces, said at the send-off ceremony at the capital's Military Airbase.
He advised those peacekeepers to strictly respect Lebanon's independence and sovereignty and to work hard in order to achieve this humanitarian mission.
"Your duties in Lebanon represent Cambodia, so you must strictly comply with all the rules and disciplines of the Royal Cambodian Armed Forces and international laws, and do not commit anything that can affect the tradition, custom, religion and dignity of the people in the host country," he said.
Claire Van der Vaeren, resident coordinator of the United Nations Development Program to Cambodia, extended her admiration to Cambodia for its active contribution to providing assistance to countries enduring conflicts and instability.
"Twenty years ago, the United Nations peacekeeping forces were sent to Cambodia, but Cambodia now sends troops and expertise to U. N. peacekeeping operations," she said. "The participation of Cambodian forces in the U.N. peacekeeping missions will honor not only troops themselves and Cambodia, but also the whole world."
She said the last three Cambodian missions in Lebanon have cleared landmines and fragments from more than 2 million square meters of the Lebanese soil. In addition, they have constructed roads, bridges, defense posts for their fellow peacekeepers, and provided medical treatment to Lebanese people.
The Southeast Asian nation firstly sent troops overseas in the framework of the U.N. Peacekeeping Operations in 2006. Since then, it has deployed more than 1,600 peacekeepers in Sudan, South Sudan, Chad, the Central Africa, and Lebanon. Most of them have ended their missions and returned home, except those in South Sudan and Lebanon.
Cambodian Prime Minister Hun Sen said last month that the country would also offer troops to the conflict-torn West African nation of Mali for the first time in early next year.
Lt. Gen. Sem Sovanny, director-general of the Cambodian National Center for Peacekeeping Force, has said some 298 troops will be sent to Mali where they work in mine clearance and civil engineering.
Xinhua