Harvard evacuates 4 buildings after report of explosives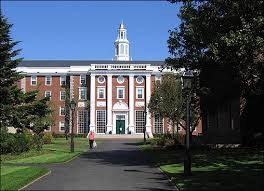 Harvard University issued an alert on its website Monday morning citing "unconfirmed reports of explosives at four sites on campus: Science Center, Thayer, Sever, and Emerson. Please evacuate those buildings now."
The university said on its website and Twitter that university and Cambridge police were investigating. Faculty, staff and teachers will be updated through "Web, email and voicemail," the website said.
"Out of an abundance of caution, the buildings have been evacuated while the report is investigated," the website statement said. "Harvard's focus is on the safety of our students, faculty and staff. We will update the media when we have more information."
State troopers from the K9 and bomb squads have responded to the scene, Massachusetts State Police said.
The main campus of the school, among the nation's most prestigious, sits on 210 acres in Cambridge. Harvard's student body includes about 6,700 undergraduates and another 14,500 graduate and professional students. Final exams were being issued Monday for scores of classes.
USA Today