Kerry meets Israel's PM to push peace talks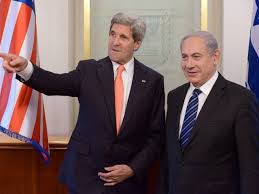 U.S. Secretary of State John Kerry is meeting with Israeli Prime Minister Benjamin Netanyahu in his latest push for Mideast peace.
Continuing a furious pace of shuttle diplomacy, Kerry was meeting Netanyahu Friday morning in his ninth trip of the year to the region amid a rare snowstorm that blanketed Jerusalem.
Concerned that a final status agreement may not be possible by the May target the two sides accepted when they resumed talks in August, U.S. officials say Kerry is hoping for a framework accord that would contain the principles of a comprehensive pact, but not specific details. If an outline were achieved, the negotiations could be extended beyond the nine-month timeline originally set by Kerry.
Kerry met Thursday with Palestinian President Mahmoud Abbas. He departs later Friday for Vietnam.
USA Today