Bangladesh executes opposition leader Abdul Quader Mollah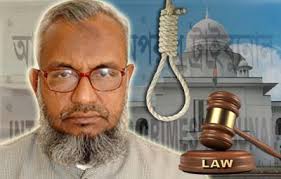 Bangladesh has executed an opposition leader convicted of war crimes hours after the Supreme Court rejected a last-minute appeal.
An intelligence official says the hanging of Abdul Quader Mollah took place Thursday night in a jail in Dhaka. He spoke on condition of anonymity because of the sensitivity of the case.
Several TV stations also reported the execution.
Mollah is the first person executed after Prime Minister Sheikh Hasina in 2010 began trying people suspected of war crimes. Most of the defendants are opposition members.
Mollah's Jamaat-e-Islami party said the death sentence was politically motivated, and warned of "dire consequences" if he were executed.
The case involves Bangladesh's independence war against Pakistan in 1971. The government says Pakistani soldiers, aided by local collaborators, killed 3 million people during the war.
Associated press