GCC calls on foreign forces to leave Syria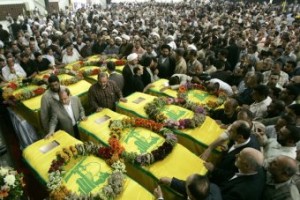 Gulf states called Wednesday for the withdrawal of "all foreign forces" from Syria, where Iran-backed Shiite militias from Iraq and Lebanon are supporting regime troops against Sunni-led rebels and foreign fighters.
The Gulf Cooperation Council "strongly condemned the continued genocide that [President Bashar] Al Assad's regime is committing against the Syrian people using heavy and chemical weapons… calling for the withdrawal of all foreign forces from Syria," the six nations said in a statement at the end of a two-day summit in Kuwait.
Shiite Lebanese movement Hezbollah and Iraqi Shiite militias have been battling alongside Al Assad's forces against the Sunni-led rebels, who are supported by GCC members Saudi Arabia and Qatar.
There are also foreigners fighting on behalf of the rebels, including jihadists from across the Muslim world and the West.
The GCC backed the rebels' position that Al Assad play no role in any political transition agreed to in talks scheduled for next month in Geneva while urging the opposition to attend the meeting.
"Pillars of the Syrian regime whose hands had been stained by the blood of the Syrian people must have no role in the transitional government or Syria's political future," the nations said in their statement.
They also voiced support for the Syrian National Coalition's decision to attend the Geneva 2 conference "as the legitimate representative of the Syrian people."
The National Coalition, an umbrella opposition group also backed by the West, had agreed to attend next month's Geneva 2 peace conference under certain conditions, including that Al Assad play no role in any transitional government.
The Geneva talks are aimed at ending the nearly three-year-long civil war, which has killed an estimated 126,000 people and driven millions from their homes.
Syria's uprising began as a series of peaceful pro-democracy protests in March 2011 but rapidly escalated into an armed conflict after the regime launched a brutal crackdown on dissent.
Gulf News
Photo: Funeral of Hezbollah fighters that were killed in Syria while defending the Syrian regime against the mostly Sunni rebels