December 10 marks the anniversary of the presentation of the United Nations' Universal Declaration of Human Rights, which recognizes that there are "equal and inalienable rights of all members of the human family." But, because of the widespread practice of child marriage, 14 million girls under 18 are denied those rights each year. 
While Niger in Africa seems to have the highest rate of Child marriage at 75 % , a huge percentage of child marriage exists in some parts of the Middle East ,  in India, in Africa and some parts of south America..
Closer to home the desperate plight of refugees fleeing Syria's civil war is reportedly forcing some parents to marry off their daughters as child brides.
In some cases, landlords in Jordan were exploiting the situation by offering to waive a family's rent in exchange for marrying their daughter, said Refugees International.
There are also reports of men from Saudi Arabia and other Middle Eastern countries looking for young Syrian brides among refugee communities.
More than 2 million refugees have fled Syria during  1000 days of fighting. Most have gone to Jordan, Lebanon, Turkey and Iraq.
Here are some facts about the lives of child brides.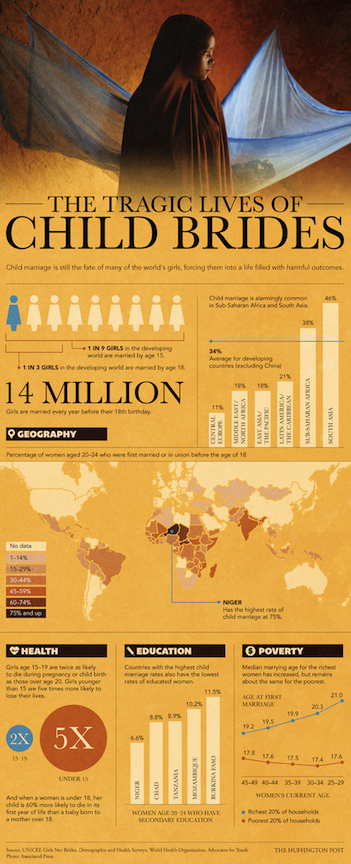 Top Photo: 450 girls under ten were  reportedly forced to marry adult men in a mass Muslim marriage that was  held  by Hamas in Gaza in 2012
Huffington Post/ Agencies
This error message is only visible to WordPress admins
Error: No connected account.
Please go to the Instagram Feed settings page to connect an account.