Will Iran replace the U.S. in Afghanistan?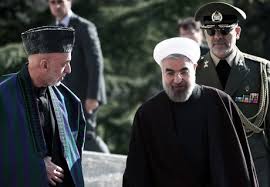 Afghan President Hamid Karzai agreed on a cooperation pact with Iran on Sunday, an Afghan official said, while continuing to resist signing a long-term security agreement with the United States.
Karzai struck the deal with Iranian President Hassan Rouhani in Tehran in a move that will be greeted with suspicion by his U.S. ally, which is trying to convince him to sign the security accord governing any post-2014 U.S. presence in Afghanistan.
"Afghanistan agreed on a long-term friendship and cooperation pact with Iran," Karzai's spokesman Aimal Faizi said. "The pact will be for long-term political, security, economic and cultural cooperation, regional peace and security."
He said a formal document would be prepared and signed soon.
In August Afghanistan signed a strategic cooperation pact with Iran covering mainly security issues, but Faizi said the proposed new agreement would have much broader scope.
Many Afghans believe such a bargain with Iran, at odds with the United States since the 1979 Islamic revolution, may harm Afghanistan's uneasy relationship with its Western allies.
The U.S. bilateral security pact is a decade-long agreement that would provide a legal basis for about 8,000 U.S. troops to stay on after the NATO-led combat mission ends next year.
Its future was thrown into doubt last month when Karzai said he would sign only if new conditions were met, and then only after Afghanistan's elections in April.
Iran has long opposed NATO's presence in Afghanistan and is the only country to have asked Karzai not to sign the agreement
Rouhani reinforced that message after meeting Karzai. "All foreign troops should be withdrawn from the region," he posted on his official Twitter account. "(The) security of Afghanistan should be entrusted to the Afghan people."
Reuters