Iran threatens oil price war to regain its global role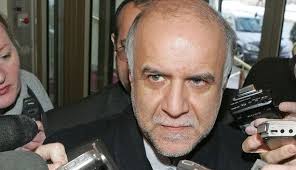 Iran indirectly challenged OPEC kingpin Saudi Arabia on Wednesday, announcing plans to pump as much oil as it can if sanctions on its crude exports are lifted, even if its extra output drives prices into the basement.
The comments by Bijan Namdar Zanganeh, Iran's oil minister, reflected Tehran's determination to regain its global role as an oil power if it is freed of the sanctions under any nuclear deal with six world powers meant to ensure that its atomic activities cannot be used to make weapons.
It also raised the prospect of a production war inside the Organization of the Petroleum Exporting Countries, which is keen to project an image of unity among its 12 members. If Iran does ramp up its output — and Iraq and Libya make good on promises to do so, as well — other OPEC members would have to reduce theirs to keep prices from dropping too much and hurting them all.
Iranian rival Saudi Arabia would be particularly under pressure. It produces about a third of the cartel's daily output of about 30 million barrels
Under such a scenario, "it would be difficult for the Saudis to maintain production levels without risking lower prices," said analyst Jason Schenker of Prestige Economics.
That potential problem was not on the top of the agenda at Wednesday's OPEC meeting, where the oil ministers agreed to extend current output targets. But OPEC may have to focus on the prospect of overproduction as early as its next meeting, on June 11.
Iran's agreement to limit its nuclear program is still only a preliminary one. Sanctions on its oil exports will probably stay in place until a final deal is reached, which — if it happens — is unlikely before mid-2014.
If and when the sanctions are lifted, Iran says it wants to ramp up production to pre-sanctions levels of 4 million barrels a day. Iraq also wants to reach that target within a year, while Libya hopes to increase output to 2 million barrels a day once unrest there ebbs.
OPEC has had little success in the past at asking member countries to respect individual targets. But OPEC Secretary General Abdullah El-Badri sought to play down looming problems from any surplus production, saying his organization would deal with it if and when that happened.
"We are watching this situation very carefully," he told reporters.
Zanganeh said ahead of Wednesday's meeting that his country was determined to regain its share "under all circumstances."
"We will produce 4 million even if the price drops to $20," he told reporters. Benchmark Brent crude on international markets now sells for nearly six times as much, and a drop to anywhere near $20 would spark a crisis among oil exporters by leaving production costs far outstripping sales revenue.
Although the Iranian comments posed a potential challenge for Saudi Arabia, Saudi oil minister Ali Naimi sought to ease concerns, telling reporters that he did not see a price war on the horizon.
"I hope Iran comes back [and] produces all it can," he said. But he gave no sign that his country was ready to reduce output.
Washington Post