Jumblatt : Tripoli leaders are destroying the city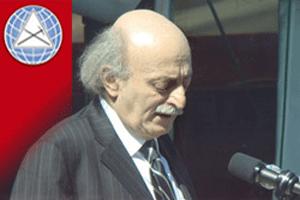 Progressive Socialist Party leader MP Walid Jumblatt accused Tripoli's leaders of destroying their own city.
"The majority of Tripoli's leaders insist on and are determined to destroy the city," Jumblatt said in his weekly column in the Al-Anbaa online newspaper.
Jumblatt added that "the proof is that none of these leaders are acting or intervening to change the existing reality and [are] protecting those who are violating security."
At least 10 people have been killed in the ongoing clashes that erupted on Saturday after a Jabal Mohsen resident was wounded by gunfire in the city's Baddawi area.
Jumblatt's remarks come after former Lebanese PM and current leader of the Future Movement parliamentary bloc MP Fouad Siniora called on the Lebanese state to disarm the gunmen fighting in Tripoli.
"It is necessary that the state remove the arms of all fighting parties in Tripoli," Siniora said during a press conference on Sunday .
He also warned that there is someone working on preventing the bloodshed from ending in Tripoli. A possible reference to Syria which is backing the mostly Alawite neighborhood of Jabal Mohsen against the mostly Sunni Bab al Tabbaneh neighborhood
"The situation in Tripoli can no longer be addressed through circumstantial procedures, strict decisions need to be made and executed even if this requires changing the leaders of security and military agencies in the city." He said
Tension has skyrocketed in Tripoli since the judiciary began a probe into the Jabal Mohsen-based Arab Democratic Party which is closely allied with the Syrian regime over its alleged role in the suicide bombings on August 23, which left dozens dead outside two Sunni mosques.
Last month, Tripoli witnessed another round of sectarian violence between the residents of Jabal Mohsen and Bab al-Tebbaneh neighborhoods.
The violence took place despite the presence of security forces that have been deployed to the city.