Berri is tasked with Iranian-Saudi mediation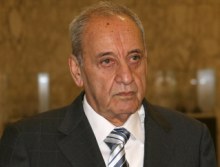 During his visit to Iran, Lebanon Speaker Nabih Berri informed its leaders that he was willing to exert efforts to achieve Iranian-Saudi rapprochement, and he was tasked with this mission, MTV reported on Sunday .
MTV added that Berri will visit Saudi Arabia within two weeks at the latest to kickstart this "mediation"effort
This issue was one of the main topics during Berri's meeting with former PM Fouad Siniora on Sunday according to MTV because the speaker did not want to bypass the Future Movement with regards to his upcoming visit to Saudi Arabia .
During his upcoming visit Berri plans to seek Saudi Arabia's assistance in bolstering stability in Lebanon since the kingdom has always declared its support for the country's security and stability,according to local reports
This development comes days after what Berri described as a "successful" trip to Iran during which he held talks with top Iranian officials, including Supreme Leader Ayatollah Ali Khamenei , President Hassan Rouhani and Iranian parliament speaker Ali Larijani on the Lebanese crisis, the war in Syria and regional developments.
While Iran is the main backer of Syrian president Bashar Al Assad , Saudi Arabia is backing the rebels is trying to topple him