Siniora meets Berri and calls for disarming Tripoli gunmen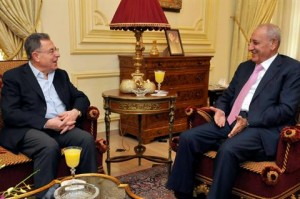 Former Lebanese PM and current leader of the Future Movement parliamentary bloc MP Fouad Siniora on Sunday held talks with Speaker Nabih Berri in Ain al-Tineh to discuss the latest developments in Lebanon, according to An Nahar newspaper.
This was the fourth meeting between the two officials in two months, according to the repot
Siniora was also scheduled to meet Maronite Patriarch Beshara al-Rai at Bkirki.
"Based on what we started during our successive meetings over the various issues, this meeting was a continuation of this atmosphere and the talks were positive and we will carry on with these meetings," Siniora told reporters after his meeting with Berri.
According to An Nahar the talks tackled ways to ease the political and security tensions in Lebanon through stressing the need to form a new government as soon as possible.
Siniora and Berri were also expected to highlight the importance of avoiding political vacuum in Lebanon and the need to reach an agreement over a new parliamentary electoral law.
A source close to Siniora said the meeting aimed at maintaining ongoing communication between the two officials.
"It is a way to ease the political stalemate in the country," the source said.
Disarm Tripoli gunmen
During a press conference held on Sunday Siniora called on the Lebanese state to disarm the gunmen fighting in Tripoli.
"It is necessary that the state remove the arms of all fighting parties in Tripoli," Siniora said
He also warned that there is someone working on preventing the bloodshed from ending in Tripoli. Siniora said in a possible reference to Syria which is backing the mostly Alawite neighborhood of Jabel Mohsin against the mostly Sunni Bab al Tabbaneh neighborhood
"The situation in Tripoli can no longer be addressed through circumstantial procedures, strict decisions need to be made and executed even if this requires changing the leaders of security and military agencies in the city." He said
Clashes erupted in Tripoli on Saturday after a Jabel Mohsin resident was wounded by gunfire in the city's Baddawi area, killing eight people and wounding at least 50.