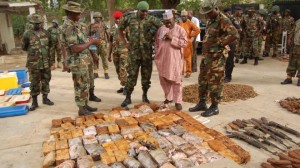 A Nigerian court handed a life sentence for illegal arms trafficking and possession on Friday to a Lebanese man suspected of having links with Hezbollah, but it freed another two Lebanese suspects in the case.
Judge Adeniyi Ademola struck out all terrorism charges against the men on lack of evidence, noting that being a member of Hezbollah was not enough to be so accused.
"Hezbollah is not an international terrorist organization in Nigeria. There is no evidence that the … accused received training in preparation for terrorist acts," as the prosecution alleged, he said.
Secret service agents arrested Mustapha Fawaz, Abdullah Tahini, Talal Ahmad Roda and Hussain Nurudeen Kossdi between May 16 and May 28.
They suspected them of being members of the Lebanon-based Shi'ite Muslim organisation, after a raid on a residence linked to Roda in the main northern city of Kano uncovered anti-tank weapons, landmines, heavy artillery, rocket-propelled grenades and automatic rifles.
Authorities said the weapons were to be used in attacks on American and Israeli targets.
Kossdi was later freed for lack of evidence.
Judge Ademola gave Roda a mandatory life sentence for unlawful possession and importation of firearms, but the others were cleared on lack of evidence of any links to the weapons.
Speaking outside the court, Mustapha Fawaz told reporters he felt vindicated.
"We have lived in Nigeria for most of our lives … We have invested so much in Nigeria," he said. "Anybody who invests billions of naira (hundreds of thousands of dollars) in a place will not be interested in destroying it."
Reuters
Photo: Nigerian military officials stand near ammunitions seized from suspected members of Hezbollah after a raid of a building in Nigeria's northern city of Kano May 30, 2013. (Reuters)
This error message is only visible to WordPress admins
Error: No connected account.
Please go to the Instagram Feed settings page to connect an account.