US to continue countering Iran, Hezbollah terrorist activities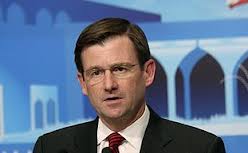 US Ambassador to Lebanon David Hale on Thursday said that his country will continue to counter Tehran's support for Hezbollah, despite the agreement signed over the weekend on Iran's nuclear program, according to a report by NOW.
"As we proceed with negotiations about Iran's nuclear program, the United States will not ignore Iran's destabilizing actions in the region," Hale said following a meeting with Lebanese Caretaker Premier Najib Mikati.
"We will continue to counter Iran's terrorist activities, and those of its proxies, including Hezbollah," a statement issued by the US embassy quoted Hale as saying.
His remarks come just days after Iran agreed to an interim deal with the permanent members of the United Nations Security Council and Germany. The deal says Iran will limit portions of its nuclear program in exchange for targeted relief from international sanctions.
However, the US envoy added that Washington "will continue our work with Lebanon to ensure that the enforcement of the international sanctions remains rigorous."
He also voiced his country's continuing support of the 2012 Baabda Declaration that calls for distancing Lebanon from the conflict in the Syria.
Thousands of Shiite Hezbollah members are fighting alongside the forces loyal to president Bashar al Assad against the mostly Sunni Syrian rebels who are seeking to overthrow the 40 year old regime despite the Baabda Declaration.
The Hezbollah fighters have been instrumental in the regime's control of Syria's strategic town of al-Qusayr several months ago. Hezbollah continues to fight alongside Assad's troops in several hotspots.