Iran Invites IAEA to Visit Nuclear Site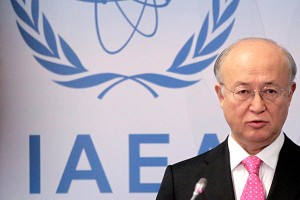 The United Nation's nuclear watchdog says Iran has invited its officials to visit a heavy water production facility early next month.
The chief of the International Atomic Energy Agency, Yuyika Amano, said Thursday that Tehran has invited inspectors to its Arak site on December 8.
This is the first time in two years that Tehran has allowed inspectors at the heavy water production facility.
The announcement came just days after Iran agreed to an interim deal with the permanent members of the United Nations Security Council and Germany. The deal says Iran will limit portions of its nuclear program in exchange for targeted relief from international sanctions.
Under the six-month agreement, Iran can continue enriching uranium, but only up to 5 percent, a level that is suitable for generating power. Iran must neutralize its stock of 20-percent-enriched uranium, which can be used for medical research but is also a short step from the level needed to create a nuclear bomb.
Iranian President Hassan Rouhani said recently in an interview on IRIB television that his country will not stop its nuclear enrichment activity. He said Iran has a right to enrichment. But he also pledged to have "constructive interaction" with the international community.
The president pledged to work with the nations involved in the interim deal – the United States, Britain, France, China, Russia and Germany – in order to reach a comprehensive agreement.
The two sides have said that a long-term solution would include "practical limits" and transparency to ensure Iran's nuclear work is peaceful, while giving Iran full sanctions relief.
VOA