Iran deal ripples felt from Syria war zones to Saudi palaces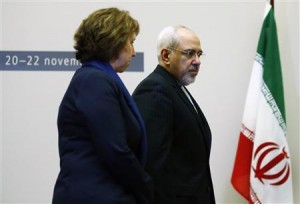 After news of the Iranian nuclear deal emerged, Syria quickly welcomed it as a triumph for its ally Iran and a setback for opponents led by Saudi Arabia.
Information Minister Omran al-Zoubi, whose government is backed by Iran in a civil war with rebels funded by Saudi Arabia, said that the pact marked a victory for diplomacy over "threats, ultimatums, challenges and wars." Hours after world powers and Iran shook hands on a pre-dawn agreement on Nov. 24, Syria's Foreign Ministry hailed "Iran's role in the stability and security of the region."
The agreement follows the U.S. decision two months earlier to pull back from using force against President Bashar al-Assad, angering its Gulf allies. With Saudi Arabia pledging to respond by broadening its support for rebels, and Iran now freed from some of the pressure of sanctions, there's concern the rivals may step up their proxy war in Syria where fighting has already killed more than 100,000 people in 2 1/2 years.
"Up to now Iran was perceived as a spoiler," said Sami Nader, a professor of international relations at Beirut's St. Joseph University. "Now it will have to choose between acting as a partner, which means a less aggressive role in the Middle East, or it could decide it can have a free hand in Syria in exchange for compromising on its nuclear program."
'Indispensable Partner'
How Iran behaves depends on how it wants to "position itself on the international scene," said Nader. Saudi Arabia, a longtime American ally, will be watching. The Saudis "consider that the Iranians won in Lebanon, in Iraq and, if they win in Syria, Riyadh will be next," he said.
Syria is at the epicenter of a regional struggle pitting Saudi Arabia, the Gulf's leading Sunni power, against Shiite Iran and its proxies such as Lebanon's Hezbollah.
Violence has flared elsewhere. Saudi troops in March 2011 helped crush a revolt by Shiites in neighboring Bahrain, where many Saudi Shiites have cultural and family ties. There has also been Shiite-Sunni violence in Yemen.
In a November visit to Riyadh, U.S. Secretary of State John Kerry said the U.S. was committed to defending its established Middle East allies and described Saudi Arabia as an indispensable partner. Iran today seized Saudi boats with crew from various countries for "illegal fishing" near Bushehr in the Persian Gulf, the state-run Fars news agency reported.
The conflict in Syria began in March 2011 with peaceful protests, part of a series of uprisings that swept rulers of Tunisia, Egypt, Yemen and Libya from power. The demonstrations descended into civil war, a battle that drew in fighters from across the country's borders.
Peace Summit
Shiite guerrillas belonging to Iraq's Abu Fadl al-Abbas Brigade and Hezbollah bolstered Assad's forces, and al-Qaeda-linked militants control parts of Syria's north. While Saudi Arabia has supported the Free Syrian Army, which is the West's preferred force, it recently signaled its support for the opposition wouldn't be constrained by U.S. efforts to keep money from Islamists.
The violence has spilled into Syria's neighbors, including Iraq, where bomb attacks have killed thousands this year, and Lebanon, where anti- and pro-Assad groups have clashed. The United Nations has called a peace conference for Jan. 22 in the search for a negotiated settlement.
The weekend deal in Geneva adds a new unpredictable element to the war, said Salman Shaikh, director of the Brookings Institution's Doha Center in Qatar.
Sanctions Relief
"Iranian officials may well feel emboldened, and they may well have more cash with which to engage in this regional proxy conflict," Shaikh said by phone. "They would probably be right in thinking the U.S. and other world powers may not be interested in pushing back on them."
Rebel groups would escalate in response, he said.
"The next six months are going to be hell for this region" if the West focuses exclusively on the nuclear program and doesn't pressure the Iranians to show peaceful intentions, Shaikh said.Syria's Prime Minister Wael al-Halaqi said the nuclear deal was a "historic and strategic" victory for an alliance often dubbed the "Resistance Axis" that includes Iran, Syria and Hezbollah and which has traditionally promoted an anti-American and anti-Israel stance.
It "brought back respect of international laws and peoples' right to self-determination, ending decades of having certain countries control the region and the world," Halaqi said, according to a report yesterday by state-run SANA.
Business Week
Photo: European Union foreign policy chief Catherine Ashton (L) arrives with Iranian Foreign Minister Mohammad Javad Zarif during a photo opportunity before the start of three days of closed-door nuclear talks at the United Nations European headquarters in Geneva November 20, 2013. REUTERS/Denis Balibouse