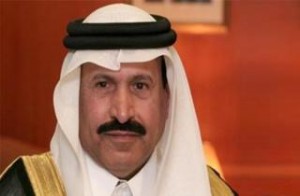 The Saudi Ambassador to Lebanon Ali Awad Assiri denied having received threats and stressed that Lebanon is a "brotherly country."
"The embassy did not receive any threats and Lebanon is a brotherly country," Assiri told Saudi newspaper Okaz in remarks published Saturday.
Assiri thanked all political leaders who called him and stressed their commitment to protecting the embassy.
He also described the accusations against Saudi Arabia regarding terrorism, especially the bombings in Beirut, and the explosions near the Iranian embassy as "irresponsible."
"The Saudi kingdom has proven itself to be a true supporter of fighting terrorism and has also been the victim of many terrorist attacks," the Saudi envoy added.
On Thursday, the Saudi embassy in Beirut called on citizens to leave Lebanon because of the dangerous situation after some media linked the kingdom to deadly blasts.
On Wednesday, Future bloc MP Ghazi Youssef warned that the recent bombings in Beirut might herald a new wave of attacks against embassies in Lebanon, including Saudi Arabia's.
An al-Qaeda-linked group in Lebanon claimed responsibility for an attack Tuesday on the Iranian embassy in southern Beirut that killed 25 people, including an Iranian cultural attaché. The group said it will continue the attacks until the Iranian-backed Shi`ite group Hezbollah withdraws its fighters from the Syrian civil war.
The attack outside the embassy was followed by a stinging campaign in some pro-Hezbollah media outlets against Saudi Arabia, accusing the Gulf monarchy of being behind the blasts.
According to media reports both attackers against the embassy were Lebanese
This error message is only visible to WordPress admins
Error: No connected account.
Please go to the Instagram Feed settings page to connect an account.