Suleiman addresses Lebanese on eve of Independence Day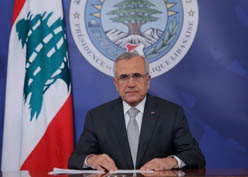 On the eve of the Independence Day Lebanese President Michel Suleiman addressed the Lebanese urging politicians to contribute to the building of a just and capable state that the younger generations aspire to have.
"The coming months must not be a waste of time but an opportunity to reach consensus over an electoral law, to withdraw from Syria, to start national dialogue sessions, to adopt administrative decentralization and forming a committee to follow up on the issue of those missing in the war." He said in his speech.
November 22 marks the seventieth anniversary of the Lebanese independence.
He said that the national crisis that is paralyzing the the state's institutions "draws question marks around the meaning of independence, of democratic practices and of the Lebanese system and whether it serves the national interests."
Commenting on Hezbollah military role in defending the Syrian regime against the mostly Sunni rebels and the resulting spillover of Syrian Civil war to lebanon he said:
"There is no independence when some Lebanese factions disregarded national consensus and get involved in armed sighting in a neighboring country and risk civil stability."
Commenting on Hezbollah's use of its arms inside its strongholds he said:
"There is no independence unless the state is the sole possessor of arms.""
He reiterated the importance of distancing Lebanon from regional conflicts by abiding by The Baabda Declaration.
" The Baabda Declaration stresses the importance of neutralizing Lebanon from regional conflicts."
He warned, that the Lebanese state "will not hesitate to take any decision if its existence was threatened".
His speech comes a day after an al-Qaeda-linked group in Lebanon claimed responsibility for an attack Tuesday on the Iranian embassy in southern Beirut that killed 25 people, including an Iranian cultural attaché. The group said it will continue the attacks until the Iranian-backed Shi`ite group Hezbollah withdraws its fighters from the Syrian civil war.
This could be Suleiman's last Independence Day speech as president since his mandate expires in 2014 and he has repeatedly said that he is against the extension of his own term.