Companies, port sought to destroy Syria poisons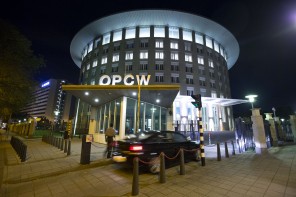 The global chemical weapons watchdog is urgently seeking commercial firms to destroy toxins from Syria's poison gas arsenal, and trying to find a Mediterranean port where the deadliest chemicals can first be processed off-shore.
The Organisation for the Prohibition of Chemical Weapons is racing to cobble together a "Plan B" to eradicate Syria's poison gas arsenal, after Albania abruptly backed out of an offer last week to host the destruction.
The OPCW is expected to ask companies formally on Thursday to bid for commercial contracts to treat around 800 tonnes of bulk industrial chemicals that are safe to destroy in commercial incinerators, a document reviewed by Reuters shows.
In addition, another 500 tonnes of chemicals, including actual nerve agents, are seen as too dangerous to import into a country or process commercially, and so would first be treated off shore on a U.S. ship. That process would itself yield large volumes of toxic waste that must then be disposed of.
The OPCW would need to find a port in the area where it can oversee the offshore work and then ship out the waste products.
The Hague-based OPCW, which won the Nobel Peace Prize last month, has been given the task of destroying Syria's chemical weapons stocks under an agreement brokered by the United States and Russia which averted U.S. missile strikes.
Washington had threatened to attack Syria to punish it for a sarin gas attack on a Damascus suburb which killed hundreds of people in August, but withdrew the threat after President Bashar al-Assad agreed to give up his chemical arsenal.
The global chemical weapons watchdog expects to spend up to 45 million euros on commercial waste treatment as part of the destruction of Syria's toxic arsenal, sources involved in the discussions told Reuters. Companies have until November 29 to expresstheir interest, the document reviewed by Reuters said.
Last Friday, Albania abruptly withdrew an offer to host a destruction facility, prompting a scramble to find countries able to destroy chemicals.
Discussions are ongoing and the sources said no decision yet had been taken. France,Germany, Italy and the United Kingdom all have the technical capability to handle toxins, they said.
Italy, Norway and Denmark have offered to transport Syria's chemical weapons from the northern Syrian port of Latakia with military escorts to help the OPCW eradicate Syria's stockpile.
Syria agreed in September to abandon its decades-old chemical weapons program and join the 1997 global chemical weapons ban. Damascus declared 1,300 tonnes of chemical weapons and precursors to the OPCW, which set an aggressive timetable to eradicate them in the midst of an ongoing civil war.
The most deadly chemicals, including mustard and sarin and precursors for other nerve agents, must be removed from Syria by the end of December, the OPCW decided last Friday. The entire chemical weapons arsenal must be destroyed by mid-2014.
"They are now looking around the Mediterranean region for countries with industrial waste capacity," said a source involved in the discussions. "It's ambitious."
The OPCW has until December 2 to identify companies "for destruction in commercial chemical disposal facilities of the binary chemical weapons components," a decision adopted by the body's Executive Council on Friday said.
For the offshore work on chemicals too dangerous to destroy on land, technical experts want to anchor a ship near a Mediterranean port that is close to Syria and could be guarded by Western military ships already in the region, sources said.
The Pentagon has offered to donate a newly developed $5 million Field Deployable Hydrolysis System (FDHS) which could neutralize mustard at sea, a source said.
Washington is looking for a port large enough to function as a hub to ship out the waste that would produced by the treatment process.
Europe has several major waste processing facilities, but it is unclear if they can handle the volumes required within the OPCW's tight deadlines and remain within emissions caps.
Reuters