France, Iran trade barbs as ministers struggle for a deal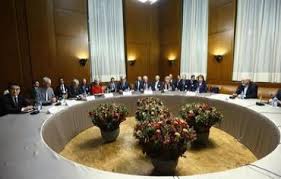 France and Iran traded tough words on Thursday as major powers struggled to finalize an interim deal to curb Tehran's nuclear program in exchange for sanctions relief, with Paris urging the West to remain firm and Tehran deploring a loss of trust.
Each side appeared to be tempering anticipation of an imminent breakthrough after the United States, Russia, China, France, Britain and Germany came close to winning concessions from Tehran in the last round of negotiations two weeks ago.
Several Western diplomats said there was a good chance U.S. Secretary of State John Kerry would join foreign ministers from the other five members of the six nation group in Geneva in another attempt to nail down a long elusive deal with Iran. One diplomat saw a "very high probability" of ministers coming.
But there was no guarantee an accord designed to start removing the risk of Iran developing a nuclear weapons capability – an intention it denies having – would be struck.
"Lots of progress was made last time, but considerable gaps remain, and we have to narrow the gaps," said a senior Western diplomat. "Some issues really need to be clarified. I sensed a real commitment … from both sides. Will it happen? We will see. But, as always, the devil is in the details."
Iranian Foreign Minister Mohammad Javad Zarif, Tehran's chief negotiator, told Iran's ISNA students news agency that the talks were going well though "differences of views" remain.
Under discussion is an Iranian suspension of some sensitive nuclear activities, above all medium-level uranium enrichment, in exchange for modest sanctions relief – releasing some funds frozen in foreign accounts, allowing trade in precious metals, the United States relaxing pressure on other countries not to buy Iranian oil, and other measures.
The Iranians have made clear, diplomats in the talks say, that they are most interested in resuming oil sales and getting respite from restrictions on Iranian banking and financial transactions that have crippled the oil-dependent economy.
"SERIOUS TALKS" BEGIN
Iranian Deputy Foreign Minister Abbas Araqchi told reporters "serious talks" with the six powers were under way. The Iranians held a bilateral session late on Wednesday with the U.S. delegation, headed by Under Secretary of State for Political Affairs Wendy Sherman, a senior State Department official said, without giving details.
Despite the presence of six powers, it is ultimately Iran and the United States who have the power to make or break a deal, diplomats say. Relations between the two were ruptured by Iran's 1979 Islamic Revolution.
Policymakers from the six governments have said an interim accord on confidence-building steps could be within reach to defuse a decade-old stand-off and dispel the specter of a wider Middle East war over the Islamic Republic's nuclear ambitions.
But before negotiations began in earnest on details of the proposal on Thursday, France and Iran cranked up the rhetoric.
French Foreign Minister Laurent Fabius, who spoke out against a draft deal floated at the November 7-9 negotiating round, was asked by France 2 television if there could be a deal.
"I hope so. But this agreement can only be possible based on firmness. For now the Iranians have not been able to accept the position of the six. I hope they will accept it."
In what appeared to be a response targeted at France, Araqchi said: "We have lost our trust … We cannot enter serious talks until the trust is restored. But that doesn't mean that we will stop negotiations."
Asked how trust could be restored, he said: "If they (the six powers) create one front and stick with united words."
The six powers want an interim deal under which Iran would stop producing uranium refined to a concentration of 20 percent, a relatively short step away from weapons-grade material, commit to more exhaustive U.N. nuclear inspections and shutting down its Arak heavy-water reactor project.
MANOEUVRING OVER "RIGHT TO ENRICH"
Iran has demanded the powers acknowledge its right to enrich uranium, something the United States, France and other Western leaders refuse to do. Kerry said on Wednesday the issue of whether Iran will be allowed to enrich uranium in the longer term would not be decided in the interim deal.
Araqchi said "enrichment is our red line but we can discuss the level and the amount" of uranium to be enriched.
A senior Iranian delegation member, speaking on condition of anonymity, said Tehran understood that all oil and banking sanctions could not be removed "in one go" but that enrichment was a red line and "we should have a paragraph on it … "If that element is not there, there will be no deal".
Zarif hinted at a possible way around this issue last weekend – Iran could insist on its own right to enrich uranium without requiring others to explicitly recognize it.
The interim arrangement under consideration calls for a six-month period of sanctions relief for Tehran that would give Iran and the powers time to craft a broad, permanent accord.
The United States has said the majority of sanctions will remain in place and any temporary sanctions relief would be canceled if no long-lasting agreement with Tehran is reached, or if the Iranians violate the terms of the interim deal.
"RABID DOG"
Iranian Supreme Leader Ayatollah Ali Khamenei on Wednesday repeated in a speech that Tehran would not step back from its nuclear rights, called Israel a "rabid dog" and criticized France for "kneeling before the Israeli regime".
Israeli Prime Minister Benjamin Netanyahu, who flew to Russia on Wednesday to appeal for tougher terms, said Khamenei's comments showed Iran had not changed since relative moderate Hassan Rouhani was elected as president in June.
"He called Jews 'rabid dogs' and said that they were not human. The public responded to him with calls of 'Death to America! Death to Israel!' Doesn't this sound familiar to you? This is the real Iran! We are not confused. They must not have nuclear weapons. And I promise you that they will not have nuclear weapons," the right-wing premier said.
Israel has lobbied against the proposed deal with Iran, saying it offers Tehran too much for too little. The Israeli criticism has resonated in the U.S. Congress, where skeptics are calling for further U.S. sanctions against Tehran, something President Barack Obama's administration has warned could derail the negotiations in Geneva.
After years of confrontation, a shift towards meaningful diplomacy between Iran and the world powers took shape after Rouhani's landslide election victory on a platform to relieve Tehran's isolation and try to lift international sanctions.
Reuters