Charbel: Election of a president not decided by the Lebanese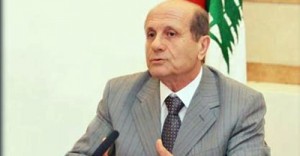 Caretaker Interior Minister Marwan Charbel told An-Nahar newspaper in remarks published on Thursday that the election of a new president for Lebanon is decided by the international powers and not by the Lebanese people.
"The decision to hold presidential elections is not in the hand of the Lebanese," Charbel said

"It is an international decision that was delegated during the most recent period to the Syrians, who were implementing the international decisions." Charbel said
The minister also said that the Syrian regime could still play an influential role in the upcoming presidential elections.
His comments come after the Kuwaiti newspaper al Rai recently quoted Hezbollah sources who were defending Hezbollah's role in Syria's civil war as saying "Whoever will rule Syria will rule Lebanon".
The sources added: "Right from the beginning Hezbollah has tied its fate to the fate of Syrian president Bashar Al Assad. We will either fall together or we will be victorious together because whoever will rule Syria will rule Lebanon".
Hezbollah and Iranian troops have become directly and increasingly involved in the command structures of Assad's forces and Assad has been forced gradually to cede power to Iran to prop up his regime during the grinding conflict in Syria.
Charbel's remarks come also after an al-Qaeda-linked group in Lebanon claimed responsibility for an attack Tuesday on the Iranian embassy in southern Beirut that killed 23 people, including an Iranian cultural attaché. The group said it will continue the attacks until the Iranian-backed Shi`ite group Hezbollah withdraws its fighters from the Syrian civil war.
President Michel Suleiman, whose mandate expires in 2014, has repeatedly said that he is against the extension of his own term.
Regarding the state of security in Lebanon, Charbel said that a number of "dangerous stages" lie ahead.
According to the minister, the stages that could affect "the situation in the country and its future" included the presidential and parliamentary elections, the Special Tribunal for Lebanon, the election of a Syrian president and the election of a new Mufti of the Lebanese republic.
Charbel, however, added that it was unlikely that a sectarian conflict pitting the Sunni community against the Shiite community would take place in the capital city Beirut, "since both parties are powerful, and fighting each other is not in their interest."
NOW