Iran calls Israel 'rabid dog' amid nuclear talks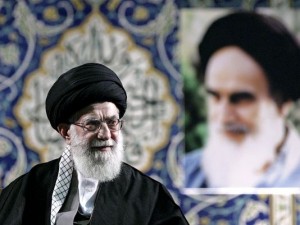 Talks to rein in Iran's nuclear program resumed Wednesday in Geneva with Iranian President Hassan Rouhani saying he seeks a "win-win" for his nation and Supreme Leader Ali Khamenei calling Israel the "rabid dog" of the Middle East.
Israeli Prime Minister Benjamin Netanyahu was in Moscow to convince the Kremlin that any deal reached in Geneva should force Iran to abide by U.N. Security Council demands that Iran end its enrichment of uranium, a process that can create fuel for an atomic bomb.
And a bipartisan group of U.S senators declined to say whether they would go along with a request by President Obama that they hold off on toughening economic sanctions against Iran until negotiations are complete. Senators such as Lindsey Graham, R-S.C., and Rep. Eliot Engel, D-N.Y., want to ramp up sanctions to force Iran to end its nuclear program.
Khamenei, in a speech to tens of thousands of volunteer Basij militiamen in Tehran that was broadcast live on Iran's Press TV, said Iran will "not step back one iota from our rights," according to Israel Hayom. Khamenei's audience responded with chants of "Death to America."
In a possible reference to sanctions imposed by the United Nations, United States and European Union, Khamenei said: "They intend to ratchet up the pressure on Iran. Iranians will succumb to no one under pressure."
Netanyahu backs an initiative by France to strike a deal in which Iran complies with demands laid out by a U.N. Security Council resolution passed amid suspicion that Iran is using centrifuges to enrich uranium into fuel for an atomic bomb in violation of its international agreements. The resolution demands included:
• Suspend enrichment of uranium.
• Halt production and installation of additional centrifuges.
• Transfer uranium enriched to 20% or higher to another country.
• Halt construction of a plutonium reactor that can produce weapons-grade plutonium.
British Prime Minister David Cameron contacted Rouhani on the eve of the talks in the first such conversation between the leaders of the two countries in more than a decade. Cameron said the leaders agreed that significant progress had been made in recent talks and that it was important to "seize the opportunity" in this week's new negotiations.
Netanyahu said anything less than what the Security Council demanded of Iran will be a "historic error" that heightens the risk of war. Israel says it will not allow Iran to have nuclear capability and will attack militarily if needed to stop such an outcome.
Secretary of State John Kerry has said that the deal being discussed will calm the Middle East and improve the odds of a better deal in the future.
Obama on Tuesday asked U.S. senators to hold off on their intention to propose tougher sanctions, according to Republican Sen. Bob Corker, who attended the White House meeting. Israel has been critical of Obama for what he says is a proposal to ease sanctions without assurances that Iran will end its nuclear program.
Corker said there will not be any sanctions amendments added before Thanksgiving but that legislators from both parties want to propose them anyway. The top Democratic and Republican representatives on the House Foreign Affairs Committee said in a letter to Obama that the deal pursued by Kerry is defective.
"The United States cannot allow Iran to continue to advance toward a nuclear weapons capability while at the same time providing relief from the sanctions pressure we worked so hard to build," said committee chairman Rep. Ed Royce, R-Calif., and Engel.
Netanyahu told German newspaper Bild that Iran already has five bombs' worth of lower enriched uranium and could convert it in a matter of weeks to weapons-grade uranium. He said this week that a bad deal that lets Iran off the hook will lead to the military option that the world is trying to avoid.
"Nothing that we are doing here, in my judgment, will put Israel at any additional risk," Kerry said in response to Israel's concerns. "In fact, let me make this clear: We believe it reduces risk."
The United States is negotiating with France, England, Germany, China and Russia over Iran's nuclear program. Though details of the deal have not been made public, Netanyahu has suggested that Kerry is prepared to accept a deal that allows Iran to keep intact its machinery and facilities for making nuclear weapon fuel.
The Obama administration calls the deal a "first step" in broader negotiations to curtail Iran's nuclear program. France scuttled the negotiations early this month when it said they were headed toward a deal that would not guarantee the safety of the region.
"This agreement freezes the (Iranian nuclear) threat where it is now," said Gary Samore, Obama's former coordinator on nuclear proliferation who's now at Harvard University's Kennedy School of Government.
"The objective is to reach a final agreement in six months' time that will include dismantling all of Iran's enrichment capacity and the heavy water research reactor. … Whether Iran will accept such a thing is, in my view, very much in doubt."
USA Today