Egypt denies reports of planned Russian military base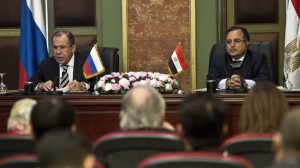 Egypt on Wednesday denied statements attributed to Russian Foreign Minister Sergei Lavrov regarding the possible construction of a Russian military base in the Arab world's most populous country.
Recent media reports had claimed that Egypt had approved a Russian request to build a military base on its territory, asserting that last week's visit to Cairo by Lavrov and Russian Defense Minister Sergei Choigu had been meant to discuss the issue.
In a statement, the Russian Foreign Ministry clarified that Lavrov's statements to Russian newspaper Rossiyskaya Gazeta had been "incorrectly translated."
The ministry stressed that Russia's top diplomat had not used the word "naval base" in his statements.
According to the ministry statement, Egyptian ambassador to Russia Mohamed al-Badri met with Russian Deputy Foreign Minister Mikhail Bagdanov on Wednesday.
"Russia respects Egypt's sovereignty and its policy of not building foreign military bases on its soil," the statement quoted Bagdanov as saying.
According to the statement, the deputy FM added: "Cooperation between the two countries is based on mutual respect and common interests."
Egyptian Foreign Ministry spokesman Badr Abdel-Ati had earlier described reports about the possible construction of a Russian military base in Egypt as "illogical."
Turkish Weekly
Photo: Egyptian Foreign Minister Nabil Fahmi (R) and his Russian counterpart Sergey Lavrov give a press conference in the Egyptian capital, Cairo. November 15, 2013 (AFP/KHALED DESOUKI)