Kerry calls the Iranian embassy attack "terrorist bombings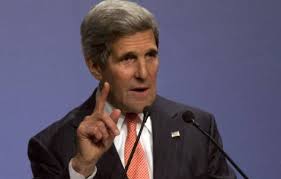 John Kerry is calling the attacks against the Iranian embassy in Beirut , Lebanon today "terrorist bombings." And the U.S. secretary of state is condemning the action.
"The United States strongly condemns today's senseless and despicable terrorist bombings at the Iranian Embassy in Beirut. We extend our condolences to the victims and their families. We urge all parties to exercise calm and restraint to avoid inflaming the situation further. The United States knows too well the cost of terrorism directed at our own diplomats around the world, and our hearts go out to the Iranian people after this violent and unjustifiable attack claimed the life of at least one of their diplomats," Kerry says in a press release from the State Department today.
"The details of today's attack are not yet clear, and we support the Government of Lebanon's commitment to conduct a thorough investigation. We call on all parties to cooperate with the Lebanese government's investigation of this crime and urge that those responsible are brought to justice.
"Acts of terror only reinforce our determination to support the institutions of the Lebanese state, including the Lebanese Armed Forces and the Internal Security Forces, to ensure a stable, sovereign, and secure Lebanon."
Weekly standard