Dow hits new milestone: 16,000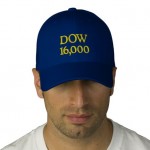 Stocks burst through yet another milestone Monday as the Dow Jones industrial average climbed higher than 16,000 for the first time.
The Dow rose 50 points in early trading, as this year's powerful stock rally continued on Wall Street.
The broader Standard & Poor's 500 index briefly touched above a psychological milestone of its own: 1,800. The S&P retreated to 1,799.16, rising 1.35, or 0.07%, in early trading.
The technology-focused Nasdaq composite index was up .21, or 0.01%, to 3,986 in early trading.
The stock market's rally has surprised even some of the most bullish prognosticators on Wall Street.
The Dow closed above 15,000 in early May. That was only three months after the blue-chip stock index closed above 14,000 for the first time since the financial crisis. So far this year, the Dow is up nearly 22%.
Many experts attribute the sharp rise in stocks in part to the continued easy-money stimulus programs of the Federal Reserve.
The Fed has been buying $85 billion in mortgage-backed securities and Treasury bonds each month in an effort to push down long-term interest rates as a way to stimulate growth by lowering borrowing costs for consumers and businesses.
The programs, known as quantitative easing, have also made bonds less attractive, luring investors into riskier assets such as stocks.
LA Times