Hezbollah chief says Israel wants war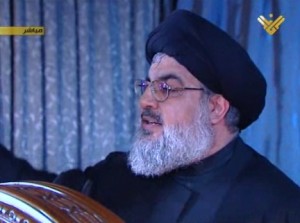 Hezbollah chief Hassan Nasrallah warned in a rare public appearance Wednesday that failure to strike a deal with ally Iran over its nuclear programme would spell "war in the region."
Nasrallah, who normally appears via video link for fear of assassination by arch enemy Israel, spoke in Hezbollah's southern Beirut stronghold to mark the Shiite Muslim Ashura holiday.
World powers failed to reach an agreement with Iran over the weekend to curb its controversial nuclear programme in exchange for some relief from crippling Western sanctions despite marathon high-profile talks in Geneva.
The West and Israel have long suspected Iran is pursuing a nuclear weapons capability alongside its civilian programme, allegations fiercely denied by Tehran.
"What is the alternative to a deal with Iran and the countries of the world," he asked. "The alternative is war in the region."
And he pointed the finger at Israel, accusing it of being in league with Arab countries.
"Israel does not want any accord that would avert war in the region. It is regrettable that some Arab countries take the Israeli side in its murderous choices.
"It is regrettable that (Israeli Prime Minister Benjamin) Netanyahu is the spokesman for some Arab countries."
This was an apparent reference to Sunni Muslim Saudi Arabia and Qatar, who are strong backers of the rebellion against Syrian President Bashar al-Assad, with whom Iran and Hezbollah are allied.
"These countries reject any political solution that would stop the bloodbath and destruction in Syria. They also strongly oppose any accord between Iran and the countries of the world.
"We have two allies — Iran and Syria," he said, adding: "We are sure of that alliance."
AFP