Lebanon president calls for strong Saudi ties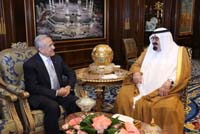 President Michel Suleiman returned on Tuesday from Saudi Arabia, where he held talks with King Abdullah during a meeting attended by top Saudi officials, including Crown Prince Salman and the Saudi ministers of foreign affairs, interior and information.
Lebanon's former Prime Minister and Future Movement leader MP Saad Hariri was also present during the meetings.
The discussions  with the Saudi officials focused on the situation in the region, particularly in Syria and the ongoing consultations to hold the Geneva 2 peace conference, National News Agency reported.
Both Suleiman and King Abdullah reportedly highlighted the importance of preserving the political, economic, and security stability in Lebanon, Hezbollah's Al Manar reported on Tuesday adding "the meeting touched on the massive influx of Syrian refugees into Lebanon, with the Saudi King expressing readiness to help the country face the related burden."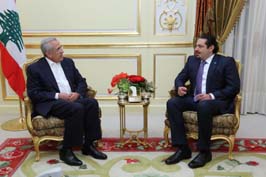 In his one-day official visit to Riyadh, Suleiman also met with a delegation from the Lebanese Business and Investment Council in Saudi Arabia which briefed him on its good ties with Saudi officials, Baabda Palace announced in a statement on Tuesday .
Upon his return he stressed on Tuesday the importance of preserving Lebanon's good relations with Saudi Arabia.
Saudi envoy to lebanon Ali Assiri praised the Lebanese president on Sunday describing him as the "protector of the Constitution and the custodian of dialogue which aims at finding solutions that please everyone and reinforce Lebanon's stability and sovereignty."
In his interview with Ash-Arq al-Awsat Assiri said of Suleiman's Monday visit to Riyadh :"it will be an occasion to reiterate support for the Baabda Declaration which entails distancing Lebanon particularly from the crisis in Syria."
Assiri added:"Suleiman's visit is of utmost importance given the deep-rooted brotherly ties between the countries and the people and in terms of discussions that will be held with the custodian of the two Mosques, King Abdallah Bin Abdel-Aziz, on issues of mutual interest."