Kerry skeptical of Iran: 'We are not blind, or stupid'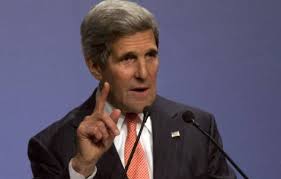 US secretary of state John Kerry said on Sunday that the United States continues to be skeptical of Iran's willingness to dismantle its nuclear program and will keep sanctions in place as talks continue.
"We are not blind, and I don't think we're stupid. I think we have a pretty strong sense of how to measure whether or not we are acting in the interests of our country and of the globe," Kerry said on NBC's Meet the Press.
The United States and its allies narrowed their differences with Tehran in talks over the weekend, but were not able to reach a deal as France believed the proposal did not adequately neutralize the risk of an Iranian atom bomb. Israel has also voiced skepticism, warning that the Iran cannot be trusted until it dismantles its nuclear program.
Kerry said the United States is aiming to get Tehran to halt further nuclear development as a first step toward a complete dismantling of the program. Washington will keep sanctions in place in the meantime, he said.
"Nobody has talked about getting rid of the current architecture of sanctions. The pressure will remain," he said.
Kerry has now moved on to Abu Dhabi, where he will focus on Iran and Syria during meetings with Emirati officials. He arrived in the United Arab Emirates on Sunday. The UAE is a valuable American partner in the Gulf. Like other Arab states in the region, it is deeply concerned about Iran's nuclear ambitions.
Kerry plans to return to Washington on Monday.
Also on Sunday, Senator John McCain continued to voice a hard line on Iran and the prospect of easing sanctions in return for a deal on nuclear weapons. McCain has been a leading voice in Congress against any deal with Iran. The Senate is set to pass new sanctions that threaten to derail the talks before they get to their planned next round in 10 days' time.
Speaking to the German news weekly Der Spiegel, in an interview in which he discussed the Edward Snowden leaks and called for the resignation of the head of the National Security Agency, General Keith Alexander, the 2008 presidential candidate said: "I am very skeptical about the situation with Iran.
"I've seen this 'confidence-building measures' movie many times. The reality is you have a nation, Iran, embarked on spreading their brand of Islam throughout the Middle East and the world. They are still dedicated to wiping Israel off the map.
"We don't need any confidence-building measures which are going to include easing some of the sanctions. That's the Iranians' goal. They either stop the enrichment or they don't."
The Guardian