Wahhab slams Lebanon's disassociation policy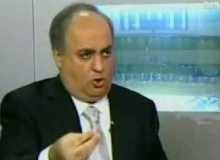 Former minister  and Arab Tawhid Party leader Wiam Wahhab slammed the Lebanese government's policy of disassociation from the conflict in Syria and described it as cowardly.
"The disassociation policy is cowardliness, escape and villainy; these descriptions do not apply to us – unlike many others," Wahhab , a staunch ally of Hezbollah and the Syrian regime said during a prayer session held in honor of party members who were killed in Syria while fighting against rebels.
He also pledged that his party will take part in the Syrian war alongside the regime's army.
"The Arab Tawhid Party will not allow itself to disassociate from what is happening in Syria…disassociation from this conflict between good and evil is a major crime," he added.
Last week, the Arab Tawhid Party announced that five of its members were killed in Syria during clashes with rebels.
Lebanon adopted last year the Baabda declaration as its official policy to dissociate it from the conflict next door . But the war in Syria and the direct involvement of Hezbollah and its allies are threatening Lebanon's polity, economy and society, and "obstructing" the work of Lebanon's Parliament and the formation of the new cabinet.
NOW