4 more Hezbollah fighters killed in Syria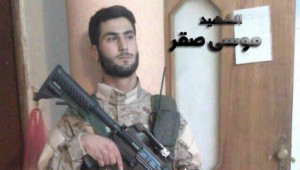 Four more members of the Iranian backed Hezbollah militant group were killed while fighting in Syria, according to a statement by the party on Saturday.
The party identified three of the fighters as Moussa Ahmad Sakrfrom Beqaa's Hermel, and Ali al-Sheikh Rida Hijazi and Hussein Ali Alloush from Nabatiyeh's Al-Zahrani.
The report added that the fighters "were killed while carrying out their sacred Jihadist duty."
Thousands of Shiite Hezbollah fighters are fighting alongside the forces loyal to president Bashar al Assad against the mostly Sunni Syrian rebels who are seeking to overthrow the 40 year old regime despite the Baabda agreement that calls for distancing Lebanon from regional and international conflicts.
The Hezbollah fighters have been instrumental in the regime's control of Syria's strategic town of al-Qusayr several months ago. Hezbollah continues to fight alongside Assad's troops in several hotspots.
Photo: Moussa Ahmad Sakr one of the four Hezbollah members killed in Syria while fighting alongside the forces loyal to president Bashar al Assad