Jumblatt: I haven't reached this level of senility, stupidity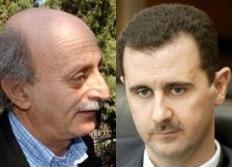 Progressive Socialist Party ( PSP) leader MP Walid Jumblatt denied on Monday reports saying that he sent a letter to Syrian President Bashar Assad, in an attempt to reconsider his relationship with the Damascus regime.
"I haven't reached this level of political senility and stupidity," PSP's al-Anbaa website quoted Jumblatt as saying.
This comes after a senior political source close to the March 8 coalition was quoted as saying that MP Talal Arslan, had delivered a letter to the Syrian leader on behalf of Jumblatt in which the PSP chief asked for a reconsideration of the relations between his party and the Syrian regime. Jumblatt reportedly also appealed to Assad to re-enroll in the Syrian Army two Druze officers who had defected earlier.
Arslan, a staunch ally of the embattled Syrian president and head of the Lebanese Democratic Party, denied on Monday that he had delivered a letter from Jumblatt to Assad and vice versa and said his last meeting with the Syrian leader was 15 days ago.
Jumblatt has recently changed his stance toward the Syrian regime and Hezbollah's role in Syria and many March 14 leaders criticized him for his U turn.