Brahimi: No talks without Syrian opposition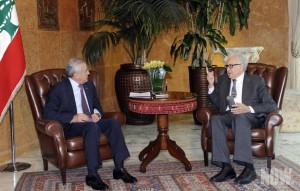 The visiting UN-Arab League joint envoy to Syria Lakhdar Brahimi said here Friday that both the Syrian government and the domestic opposition have agreed to attend the Geneva II conference to solve the Syrian crisis.
"The visit to Damascus was successful and I met with President Bashar Assad, political figures and the domestic opposition. They all agreed to join the conference and the Syrian government has confirmed that it would attend without pre-set conditions," the envoy said in a press conference.
But Brahimi, who had met separately with Lebanese President Michel Suleiman, parliamentary Speaker Nabih Berri and caretaker Prime Minister Najib Mikati, acknowledged that the conference will not take place if the Syrian opposition coalition refused to take part in.
The deeply fractured Syrian opposition groups in the National Syrian Coalition are split on whether to attend the Geneva talks, and they also disagree over conditions for taking part, including demands that Assad should step down right away to guarantee that he would not be any part of a negotiated solution for the country' s future.
Brahimi appeared to put the onus on the opposition, saying talks in Geneva cannot "go forward without the opposition," adding that "the participation of the opposition is essential, necessary and important."
Meanwhile, Brahimi stressed that "a military solution is impossible to be implemented in Syria. It's necessary to reach a political solution."
Commenting on his tour in the region, the UN-Arab League envoy said that his visit aimed at "gathering the opposition and the regime's opinions, in addition to the stances of Syria's neighboring countries regarding Geneva II."
However, media outlets reported that no official invitation was given to Lebanon to participate in the anticipated peace talks, the date of which has yet to be set.
But Brahimi said that Lebanese officials were "in favor of being invited" to the proposed conference, adding that "Lebanon has borne significant burdens that fall on its shoulders as a result of the tragic situation in Syria."
Mansour wants to attend talks
Earlier in the day, caretaker Foreign Minister Adnan Mansour stressed that he will attend Geneva II if Lebanon receives an invitation, even though the March 14 coalition is opposed to him representing the country.
Emad Wakim, a key member of the Lebanese Forces said yesterday : "If Mansour goes to Geneva he will be representing Hezbollah and not Lebanon".
Many politicians have on several occasions described Mansour, who represents Speaker Nabih Berri in the cabinet as being "a Syrian Foreign Minister".
Berri said on Wednesday that Mansour would represent Lebanon at the Syria talks.
"The conference is for foreign ministers, and if another official, such as the premier, wanted to participate in it, Mansour should accompany him to the conference and will be representing Lebanon. Those who reject this can simply stay here," Berri said.
CRI/agencies