Report of an attempt to dump Syria's chemicals in Lebanon!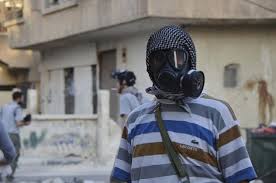 Hezbollah's Al-Manar TV quoted sources of Lebanese officials as saying that there are international attempts to dump Syria's chemicals in Lebanon.
The attempt reportedly may not be far fetched since according to former Executive Director of the United Nations Environment Mustafa Kemal Talbah  the cost of disposing one ton of toxic waste in Africa and the Arab countries will not exceed $ 40 ,while the cost in any U.S. state could be 14 to 36 times this amount.
The issue reportedly surfaced after Norway rejected the international request to utilize its territories to dispose of Syria's chemicals.
The report however outraged caretaker Environmental minister Nazim Khoury who told An Nahar:
" I have no knowledge of this news at all ." He added: " regardless of the the source of the news , I as the caretaker environment minister of Lebanon will not approve this kind of proposal."
The caretaker minister who represents president Michel Suleiman in the cabinet pointed out that Lebanon is a small country in terms of area and suffers from polluted environment and water and that a chemical landfill requires a country with vast deserts . " He believes that someone may be sending feelers to test the waters , but stressed that such an issue " would not pass ."
He reminded Al Nahar of the dark memories in Lebanon resulting from dumping of toxic waste in Kesserwan .
During the chaos of Lebanon's civil war ( 1975-1990), the country became a dumping ground for toxic waste. Foreign companies paid off Lebanese militia leaders for permission to illegally dispose of many kinds of industrial chemicals from European nations, especially Italy and Germany. Italy alone reportedly dumped at one time 16,000 barrels of toxic waste in Lebanon. Some of these toxic wastes have been returned to the nations that produced them, but not all toxins have been cleaned up. Today, Lebanon is paying the price. According to a World Bank study, toxic dumping, along with Lebanon's own sewage and toxic waste problems, has led to contamination of 70% of the country's drinking water.
Syrian President Bashar al-Assad was quoted by his visitors as saying on September 26th that his country possessed weapons that are more lethal than chemical weapons and which can blind in an instant and admitted for the first time that he possesses 1000 metric tons of Chemical weapons, according to the T the Lebanese daily Al-Akhbar which is closely linked to Syria and Hezbollah.
Reports surfaced in August and September that the Syrian regime transferred some of its chemical weapons to Hezbollah in Lebanon. But Hezbollah leader Sayyed Hassan Nasrallah denied on September 23 that his group received chemical weapons from Syria.
"This accusation is truly laughable," he said in a televised speech.
The charges had "dangerous consequences for Lebanon," he said according to Reuters
"We decisively and conclusively deny these accusations which have absolutely no basis in truth," he was quoted as saying by Reuters.