Could we all soon be sleeping with the fishes?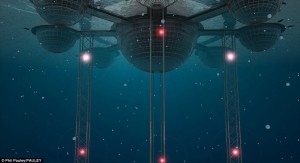 Fancy living in a city under the sea? A designer who is passionate about the concept of living underwater has created his own dream community, and hopes that his big idea will one day become a reality.
Phil Pauley says that he has dreamed about building an underwater city for the past 20 years, and has now released images of what the futuristic development might look like.
Sub-Biosphere 2 comes compete with eight 'bio-dome' structures, and is 1,105ft (337 meters) wide.
Conceptual designer Mr Pauley, who describes himself as a futurist, says the structure will consist of a central support biosphere, an observation pod, and dwelling pods which will house up to 100 people.
Each of the dwelling pods will house individual eco systems, and there will be no need to rely on air and food from the outside world.
Mr Pauley, who is the founder of a London-based visual communications consultancy, said: 'Building an underwater city is all I have thought about for the last 20 years.
'I don't want to come across as fanatical, so I am waiting for the right time, when people come around to the idea for themselves.
'When that happens I will be hear with my design.'
Mr Pauley's design was inspired by plans by the University of Arizona for a a research facility of the same name – but so far developments on the project appear to have stalled.
As well as designing his dream city, Mr Pauley is also looking for a publisher for a science fiction trilogy of books for young adults, The Moral Order.
The books feature an underwater world similar to the futuristic design that Mr Pauley hopes to see built in his lifetime.