Syria's Kurdish fighters capture border crossing with Iraq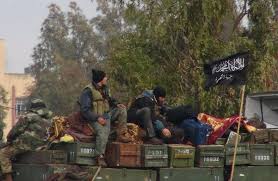 A Syrian activist group says Kurdish gunmen have captured a crossing point on the Iraqi border after days of fighting with Muslim hard-liners.
The Britain-based Syrian Observatory for Human Rights says Kurdish militiamen captured the Yaaroubiyeh post in northeast Syria on Saturday after three days of clashes with several jihadist groups there, including al-Qaida-linked factions Jabhat al-Nusra and the Islamic State in Iraq and the Levant.
The capture of the border point came hours after Syrian TV claimed that the leader of the powerful Jabhat al-Nusra has been killed. Friday's one-line report, which could not be immediately confirmed, said Abu Mohammad al-Golani died in the coastal province of Latakia.
Clashes between Kurdish fighters and jihadists in northern Syria have killed hundreds of people in the past months.
Washington Post