Pakistan endorsed US drone strikes' in secret memos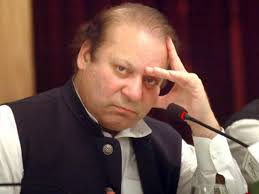 Secret US documents reveal that senior Pakistani government officials have for years known of and endorsed CIA drone strikes, an American newspaper reports.
The Washington Post said it had obtained CIA documents and Pakistani diplomatic memos which indicated officials were routinely given classified briefings.
Pakistan has responded by repeating its opposition to drone strikes.
Analysts have long suspected Pakistan gave tacit consent for such strikes.
Pakistan's PM Nawaz Sharif has publicly urged US President Obama to halt such attacks.
"I also brought up the issue of drones in our meeting, emphasising the need for an end to such strikes," Mr Sharif said after the two met on Wednesday.
The attacks by unmanned US aircraft have been a critical source of tension in the relationship between the countries and came up amid wide-ranging talks between the leaders in Washington.
They are also deeply unpopular with the Pakistani public, and Pakistan has consistently stated that they violate its sovereignty.
The Pakistani government has responded to the report by repeating its opposition to US drone strikes
"Whatever understandings there may or may not have been in the past, the present government has been very clear regarding its policy on the issue," the Pakistani foreign ministry said in a statement.
"We regard such strikes as violation of our sovereignty as well as international law," it said, adding that they were also counterproductive.
'Explicit arrangement'
The documents obtained by the newspaper focus on at least 65 drone strikes in Pakistan over the last few years and were labelled as "talking points" for regular CIA briefings.
Although they are marked "top secret" they are cleared for release to Pakistan, the paper reports.
The Washington Post says the documents provide a detailed timeline of the CIA drone programme "tracing its evolution from a campaign aimed at a relatively short list of senior al-Qaeda operatives into a broader aerial assault against militant groups with no connection to the 11 September 2001 attacks".
A spokesman for the Pakistani embassy in Washington did not respond to a request for comment from the newspaper and the CIA also declined to comment.
Correspondents say the files expose the explicit nature of the arrangement between the countries in the period when neither acknowledged that any drone programme even existed.
In 2010 the controversial whistleblowing site Wikileaks released numerous documents relating to Pakistan which showed the Pakistani military and other arms of the government had "quietly acquiesced" with drone strikes even though they had publicly condemned them.
In August 2008 then Prime Minister Yousuf Raza Gilani is reported to have said: "I don't care if they do it as long as they get the right people. We'll protest in the National Assembly and then ignore it."
But this latest cache includes documents which appear to refer to a direct Pakistani role in the selection of targets, with the newspaper referring to one 2010 entry describing hitting a location "at the request of your government".
There is also a reference to a "network of locations associated with a joint CIA-ISI targeting effort".
Civilian casualties
The number of civilian casualties in drone strikes has long been a source of dispute.
Local claims of civilian deaths are almost impossible to prove. One reason is the restricted media access in the region. The other is the militants' tendency to cordon off the targeted sites and conduct quick burials.
Earlier this week, Amnesty International released a report which said that CIA drone attacks in Pakistan were responsible for unlawful killings, some of which could amount to war crimes. The rights group named several victims who, it says, "posed no threat to life".
Amnesty said it reviewed nine of 45 recent drone strikes in the volatile tribal region of North Waziristan where many strikes have hit, and found a number of victims had been unarmed.
The US has defended its drone strikes in Pakistan and elsewhere. On Tuesday the White House said it took "extraordinary care" to ensure they complied with international law and that they were a "course of action least likely to result in the loss of innocent life".
A recent UN report also found that US drone strikes had killed at least 400 civilians in Pakistan, far more than the US has ever acknowledged. Estimates by other groups such as the Bureau of Investigative Journalism calculate that between 407 and 926 civilians have been killed in Pakistan.
The BBC's M Ilyas Khan in Islamabad says that the general impression one gets from talking to elders and correspondents from the tribal area is that drone strikes are for the most part accurate, causing fewer civilian casualties than some reports suggest.
Relations between Islamabad and Washington nosedived more than two years ago when US special forces killed al-Qaeda leader Osama Bin Laden in a raid on his hideout in Abbottabad in north-west Pakistan, without giving the Pakistani government advance warning.
But in their meeting on Wednesday, Mr Sharif said the US and Pakistan "have travelled together as friends and allies in defence of freedom and the pursuit of international peace and security".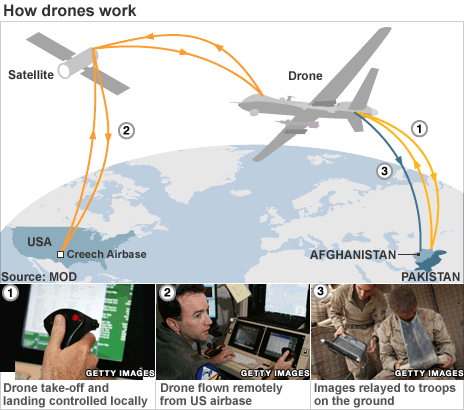 BBC