MP Kabbara: Like his master Assad, Eid is a liar and killer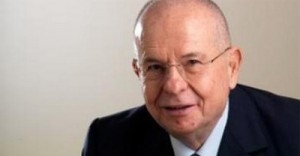 Tripoli MP Mohammad Kabbara lashed out at the leader of the Arab Democratic Party ( ADP) , accusing him of slanderous behavior, NOW reported on Thursday.
"What Rifaat Eid says is slander and lies, especially since he had threatened to shell Tripoli before and did," Kabbara said in an interview with LBC television on Thursday.
"We had, as March 14 coalition and Future Movement, during our meeting with caretaker Prime Minister Najib Miqati, called for his interrogation since his threats and actions are a crime and a felony that are punishable according to law, but no one reacted."
The MP also compared the ADP leader – an Alawite – to Syrian President Bashar al-Assad, also an Alawite.
"Eid is like his master Bashar al-Assad a killer of his own people and a liar."
Kabbara's remarks came as a response to the latest comments made by the ADP leader, who said that he did not expect the clashes in the northern city of Tripoli to subside any time soon, implying that the forces close to the Future Movement and the March 14 "have an interest in continuing the clashes in Tripoli."
Clashes erupted in Tripoli late Monday night after the mostly Alawite Jabal Mohsen residents began shooting celebratory gunfire during an interview with Bashar al-Assad broadcast on Al-Mayadeen TV.
Tripoli has witnessed sporadic security incidents following the Lebanese judiciary's October 15 indictment of seven suspects, reportedly linked to the Jabal Mohsen-based Arab Democratic Party, for the August 23 twin bombings that killed dozens outside two Sunni mosques in Tripoli.