Hezbollah chief: Our Joy is incomplete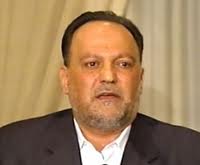 Hezbollah MP Ali Ammar delivered a speech on behalf of of his party chief Secretary General Sayyed Hassan Nasrallah and quoted him as saying that the joy of the arrival of the released pilgrims is "incomplete," NOW reported on Saturday.
"We are happy but our joy is incomplete because the two Orthodox bishops are still detained, in addition to our kidnapped jihadist brother Hassan al-Moqdad and let us not forget our prisoners in Israeli jails," Ammar quoted Nasrallah as saying Saturday night following the arrival in Beirut of the freed shiite pilgrims pilgrims.
Greek Orthodox archbishop Paul Yazigi and Syriac Orthodox archbishop Yohanna Ibrahim were seized near the northern commercial and industrial hub of Aleppo, which is contested by rebels and forces loyal to President Bashar al-Assad.
An armed group calling itself the "Chechen group " was reportedly behind the kidnapping of the two Aleppo bishops that were kidnapped in the outskirts of the city last April. Some reports linked the group to the suspects in the Boston , MASS bombing.
Hassan al-Moqdad was kidnapped by the Syrian rebels over a year ago . His abduction prompted a wave of kidnappings by the al-Moqdad clan in Lebanon.
Nasrallah did not mention anything about the hundreds of missing Lebanese who remain in Syrian jails
Ammar quoted Nasrallah as saying "today is a great national day."
Ammar also thanked on behalf of Nasrallah and Speaker Nabih Berri, "everyone who contributed and made efforts to put an end to this issue."
Nine Lebanese Shia pilgrims who were kidnapped by rebels in Syria in May 2012 arrived back in Beirut late night Saturday , a day after being released.
There were jubilant scenes as they were greeted on the tarmac by family members and Lebanese politicians.
Two Turkish pilots who were being held hostage in Lebanon were also freed as part of a complex three way swap deal which also included the freeing of 282 women from Syrian jails.
The Syrian rebels accused the Lebanese Shiite pilgrims of being Hezbollah members.
One of the freed pilgrim Abbas Shoaib said on arrival at Beirut airport: "I was accused of being a top Hezbollah commander. I'm not a member of Hezbollah, but from now on I consider myself to be a soldier of Sayyed Hassan Nasrallah."
Qatar which negotiated the deal reportedly paid $150 to the rebels to free the nine Lebanese hostages