Explosion rocks Jaramana, a suburb of Damascus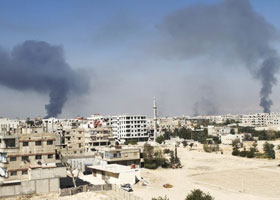 Syria's state-run news agency SANA reported that an explosion rocked the Jaramana suburb of the capital Damascus, killed and wounded a number of people .
Syrian rebels have targeted Jaramana with bombings and mortar rounds several times since the uprising began .
Jaramana is a Christian and Druse area mostly loyal to President Bashar Assad.
At least 115,000 Syrians have been killed in the country's civil war,according to activists