Ibrahim in Syria to discuss Lebanese hostages issue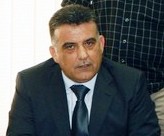 General Security chief Maj. Gen. Abbas Ibrahim discussed with his Syrian counterpart General Ali Mamlouk the release of the nine Lebanese pilgrims, who were being held in Syria's Aazaz region, As Safir newspaper reported on Friday.
According to the daily, Mamlouk, who along with former Lebanese Information Minister Michel Samaha is charged by Lebanese judicial authorities with forming a cell to carry out terrorist crimes in Lebanon including plotting to assassinate Lebanese political and religious figures, informed Ibrahim that the Syrian authorities will cooperate with any solution that guarantees the release of the men.
"We've reached a very advanced stage in negotiations," Ibrahim told As Safir,
Ibrahim who is closely associated with Hezbollah told the daily that the Lebanese state is insisting that all the nine pilgrims should be released in one batch while the the abductors are insisting on releasing the men at various stages.
The abductors are demanding the release of 282 women detainees in Syrian in exchange with the 9 Lebanese pilgrims.
Ibrahim arrived Friday in the Syrian capital according to NNA
Eleven Lebanese pilgrims were kidnapped in Syria's Aleppo region in May 2012 on their way back to lebanon from Iran .
Two of them have since been released.
Lebanese media reported last week that the nine Lebanese hostages will be released during the Eid al Adha holiday along with 2 bishops .
Greek Orthodox archbishop Paul Yazigi and Syriac Orthodox archbishop Yohanna Ibrahim were seized near the northern commercial and industrial hub of Aleppo last April