Qabbani: Lebanon politicians failed to build a state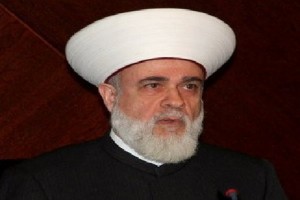 Lebanon's Grand Mufti Sheikh Mohammed Rashid Qabbani slammed the country's politicians accusing them of foreign allegiance during his sermon at Mohammed al-Amin mosque in downtown Beirut, on the occasion of the Muslim feast of Eid Al-Adha.
"The only thing that is creating division among us is the performance of our politicians, with some paying political allegiance to a camp in the West and others to a camp in the East," Qabbani said .
"Both camps are driving their own interests in our country and are only interested in making us subservient to its policies." In a possible reference to Hezbollah led march 8 alliance and the march 14 alliance
"Our politicians are bleeding the country and its people." He added
"The politicians have forgotten about their responsibilities towards the citizens … and they failed in building a real state after the Taef Accord," he told worshipers.
Qabbani accused the country's leaders of "destroying the nation" and paralyzing the parliamentary elections due to their disputes.
They also paralyzed parliament by causing lack of quorum, he said.
He also accused them of hindering the formation of a new cabinet by blackmailing each other through conditions and counter-conditions imposed on Prime Minister-designate Tammam Salam.
"The slogans of consensus and hypocrisy have become the same," he mocked.
Qabbani urged the Lebanese to unite "to avoid the fire that reached Lebanon."
"Go back to your senses … Your strength lies in your unity," he told the attendants
In November 2012, Qabbani called for a new election for the Higher Islamic Council, but clerics in the body allied with the Future Movement opposed the move, after which the Grand Mufti reversed his decision and called for a new election in late February. The mostly Sunni Future Movement and Qabbani are at loggerheads over the management of the Dar al-Fatwa religious body.