Deadly Philippine quake hits Bohol and Cebu
More than 30 people have been reported dead after an earthquake measuring 7.2 magnitude hit the central Philippines.
The US Geological Survey said the quake struck below the island of Bohol, known for its sandy beaches.
People were killed as structures collapsed in Bohol and nearby Cebu province. Several buildings and churches were damaged by the quake.
The quake struck at 08:12 (00:12GMT) on a national holiday in the country.
Officials said at least 16 people were confirmed dead in Bohol and 15 in Cebu, considered the Philippines' second city. One was reported dead from the neighbouring island of Siquijor.
Dozens of others were also being treated for injuries.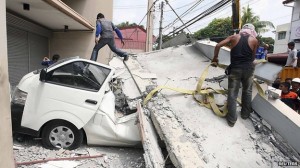 At least five people died when part of a fishing port collapsed in Cebu, reports the Associated Press (AP) news agency. Two more people died and others were injured when a roof at a market fell, AP adds.
At least three people also died during a stampede at a sports complex in Cebu, provincial disaster chief Neil Sanchez said.
"There was panic when the quake happened and there was a rush toward the exit," he told Agence-France Presse news agency.
The tremor triggered power outages in parts of Bohol, Cebu and neighbouring areas, say reports citing the country's disaster management agency.
Cebu officials have declared a state of calamity in the province.
Edgardo Chatto, the governor of Bohol, said a city hall building was damaged on the island.
Heavy damage to historic churches, some dating back to the Spanish colonial period in the 1500s and the 1600s, was also reported in Bohol and Cebu.
British man David Venables, who has lived in Cebu for seven years, said it was the strongest quake he had experienced.
"It's a very strange and frightening experience when the very foundations of the house and surrounding area shake uncontrollably," he said.
Bonita Cabiles, a resident of Mandaue city in Cebu, told the BBC said she was woken up when she felt the ground rumbling.
She said there was a lot of structural damage in the area, including to the bell tower of the Santo Nino church in Cebu, one of the most well-known churches in the country.
It was fortunate that it was a national holiday and the students were not in school, she said.
There were reports of aftershocks following the quake.
Cebu province, with a population of more than 2.6m, is about an hour away by plane from Manila. Neighbouring Bohol, a favourite of tourists because of its sandy beaches, is a short boat ride away from Cebu.
BBC