Kerry: Assad has lost the legitimacy to lead Syria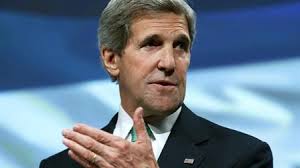 Secretary of State John Kerry called on Monday for a peace conference on Syria "very soon" but said peace would not be possible without a transition government to replace President Bashar al-Assad.
"We believe it is urgent to set a day, to convene the conference and work toward a new Syria," Kerry told reporters after meeting United Nations special envoy to Syria Lakhdar Brahimi in London.
"We believe that President Assad has lost the legitimacy necessary to be a cohesive force that could bring people together," he said, adding: "there has to be a transition government in Syria to permit the possibility of peace".
Reuters