Mikati is tired of being caretaker PM, wants a new cabinet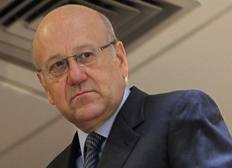 Caretaker Prime Minister Najib Mikati expressed concern over the failure to form a new government, stressing during an interview with As Safir daily that he wanted to hand over his authorities to the new PM as soon as possible.
"I am not comfortable with the continued status of being a caretaker PM ." He said , adding: "It's time to form a government to confront the internal challenges and the repercussions of the latest developments in the region."
Mikati linked the obstacles preventing the formation of the new cabinet to the lack of trust among the involved parties.
Differences on the number of shares of each camp in the government are secondary, he added.
Mikati reiterated that he would not call for a cabinet session to approve oil exploration decrees as long as there is lack of consensus on them specially since some parties have expressed reservations over Caretaker Energy Minister Gebran Bassil's approach to oil exploration.
Mikati said the formation of the Petroleum Authority last year was one of the most important achievements.
Mikati's remarks came as Bassil and caretaker Minister Ali Hassan Khalil, who is Speaker Nabih Berri's adviser, engaged in a war of words.
Bassil claimed that "some parties" would prevent authorities from drilling oil in several areas.
But Khalil snapped back at him, accusing him of lacking patriotism and seeking to keep northern and southern areas of the country out of the tenders.
Two decrees are yet to be approved to award tenders for offshore oil and gas exploration. Their approval would designate Lebanon's 10 offshore blocks for exploration and determine the model for revenue sharing.
Berri wants to assign the 10 blocks together while Bassil wants to assign two for the time being.
Prime Minister-designate Tammam Salam has been trying since since his appointment last April to form a cabinet based on giving an equal share to the rival political blocks – March 14 , March 8 and the centrists, but the Hezbollah led March 8 alliance has been insisting on having a bigger share in the cabinet to allow it to veto its decisions . Salam has been opposed to giving any party a veto power ( usually referred to as a blocking third ) and has been insisting that the 8-8-8 formula is in the best interest of Lebanon . He has on several occasions floated the idea of forming a neutral cabinet of technocrats, but Hezbollah and FPM leader MP Michel Aoun have been opposed to this idea too. Meanwhile, the Future Movement and other March 14 parties claim that they will not be part of a cabinet in which Hezbollah participates and this is why Lebanon is still without a government and Mikati is still acting as the caretaker Prime Minister.
Many observers are of the opinion that Bassil wants to rush the bidding issue in order to secure his commissions while he is acting as the energy minister in a caretaker capacity, specially since the majority of the politicians are calling for rotating the ministerial portfolios
National Liberal Party leader MP Dori Chamoun slammed Bassi last Thursday and criticized his handling of the portfolio of oil exploration.
he NLP leader added that the oil exploration portfolio was not "in safe hands."