Republicans blinked first over US shutdown?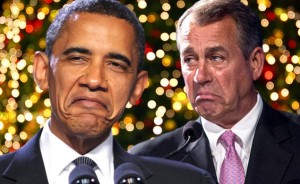 Just a week away from a looming debt default deadline amid a federal shut down, Republicans are reported to have warmed to the idea of a short-term increase in the country's borrowing limit.
Key Republican leaders, who had earlier linked passage of a spending bill and raising the US debt ceiling to dumping or delaying President Barack Obama's signature healthcare law, were also said to be ready to abandon the idea and instead are scrambling for a fallback strategy.
The development came Wednesday as conservative Republicans and leaders of the Republican controlled House prepared for their first meeting Thursday with Obama since the government shutdown began ten days ago.
Paul Ryan, 2012 Republican vice presidential candidate and chairman of the House Budget Committee, has outlined a plan to extend the nation's borrowing limit for four to six weeks, paired with a framework for broader deficit-reduction talks, the Wall Street Journal reported.
The greater the spending reduction the talks produced, the longer the next extension of the debt ceiling would be under Ryan's plan outlined Wednesday to fellow conservatives, it said.
Ryan's proposal for a short-term debt-limit increase drew broad support from conservatives at the Capitol Hill meeting, the Jounal reported citing lawmakers who attended.
According to Washington Post Republican Party leaders, now widely acknowledge that their effort to kill Obama care by forcing a government shutdown has been a failure and they are now looking for a way out of the impasse.
Instead, they are regrouping for a longer battle over the health-care law, the influential daily said. They also are trying to refocus the upcoming debt-ceiling showdown on fiscal issues, including entitlements and tax reform.
Obama had invited the entire House Republican caucus to the White House as part of a series of meetings with legislators, but Republicans are sending only 18 members representing the party leadership and committee chairmen to Thursday's meeting.
"It is our hope that this will be a constructive meeting and that the president finally recognizes Americans expect their leaders to be able to sit down and resolve their differences," an aide of House speaker John Boehner said in a statement.
White House spokesman Jay Carney said Obama was disappointed that Boehner was limiting attendance at Thursday's meeting to less than 20 of the more than 200 House Republicans.
"The president thought it was important to talk directly with the members who forced this economic crisis on the country" about the potential harmful impacts from the shutdown and a possible default, Carney said in a statement, repeating that Obama "will not pay the Republicans ransom for doing their job."
Business Standard